Holy Spirit Elementary
---
School District
St. John Paul II Catholic Schools Network
Grades
Pre-Kindergarten through 5
Average Enrollment:
120 students
Arrival is 8:00 AM
Dismissal M/T/TH/F is 3:15 PM
W is 2:30 PM
Existing Conditions
Holy Spirit Elementary is a Pre-K through 5th grade private Catholic school and part of St. John Paul II (JPII) Catholic Schools Network. The school is in the city's Washington neighborhood located approximately one mile north of downtown Fargo and across the street from Ben Franklin Middle.
Parents were observed entering the Holy Spirit parking lot from 15th Avenue N, parking, and walking into the school to meet students. Very few students were observed exiting the building without an adult. The office assistant confirmed this is standard practice.
There is one bus that circulates from Holy Spirit Elementary to Shanley High to drop students off and pick students up to bring back to Holy Spirit Elementary. This is a route the district offers parents/caregivers. At Holy Spirit, the bus picks up and drops off students directly in front of the door along the drive aisle.
There is no school speed zone specific to Holy Spirit Elementary. The school speed zone for Ben Franklin Middle is along 8th Street N between the two schools.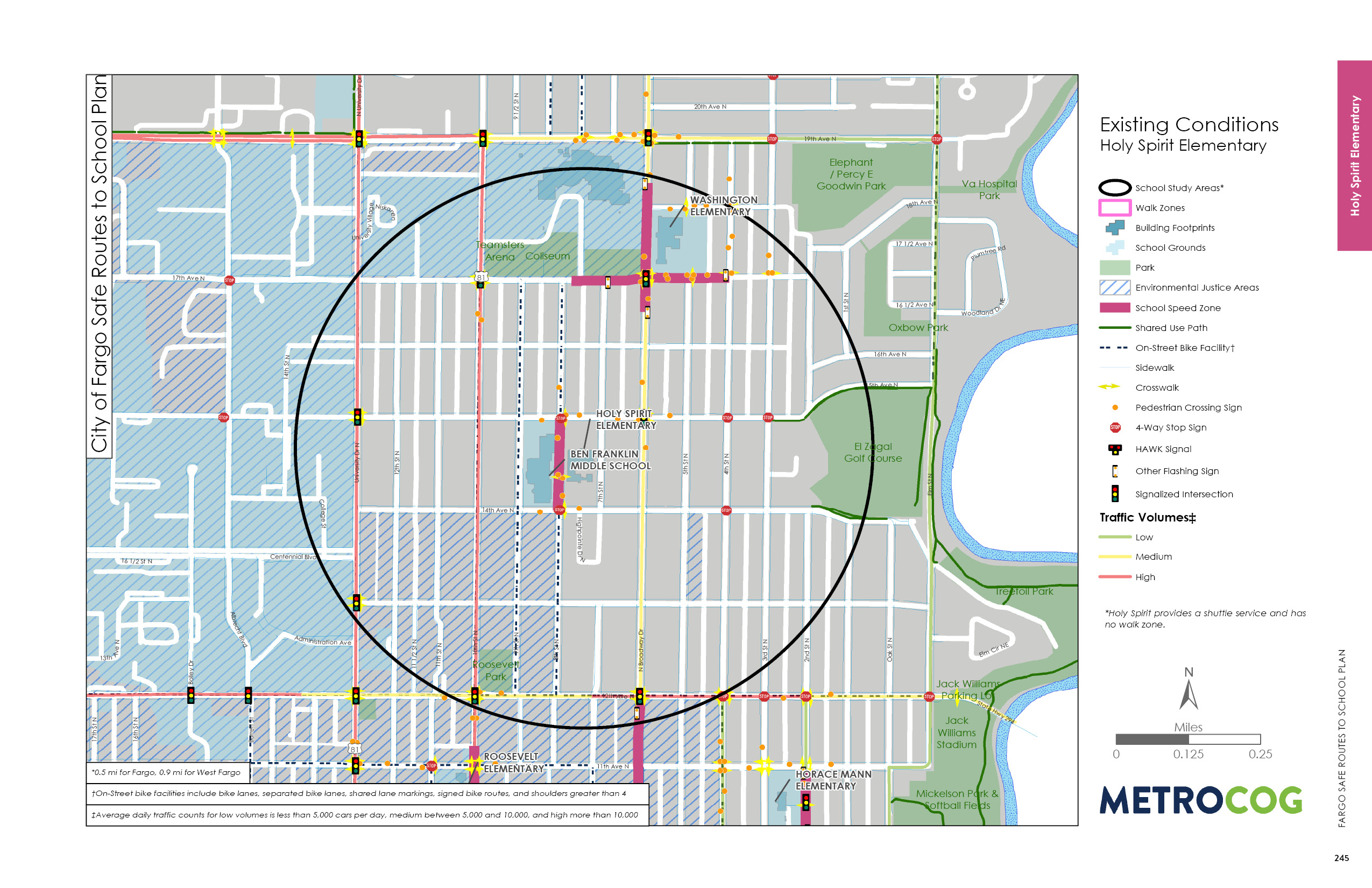 Observed Circulation & Challenges
Many of the challenges and opportunities at Holy Spirit Elementary occur during drop-off and pick-up when drivers queue to wait for students.
The challenges are exacerbated by the proximity to Ben Franklin Middle. To minimize the number of Ben Franklin parents and caregivers using their parking lot, Holy Spirit Elementary has permanently blocked the western driveway with chains. Cones are placed in the Holy Spirit Elementary parking lot along the western edge to discourage Ben Franklin Middle parents/caregivers from using the Holy Spirit parking lot to drop off or pick up students.
There are bike racks at this school near the main entrance on the north side of the building and near the play area on the south side of the building. They are a comb style racks that are not as secure as other models and can lead to wheel damage.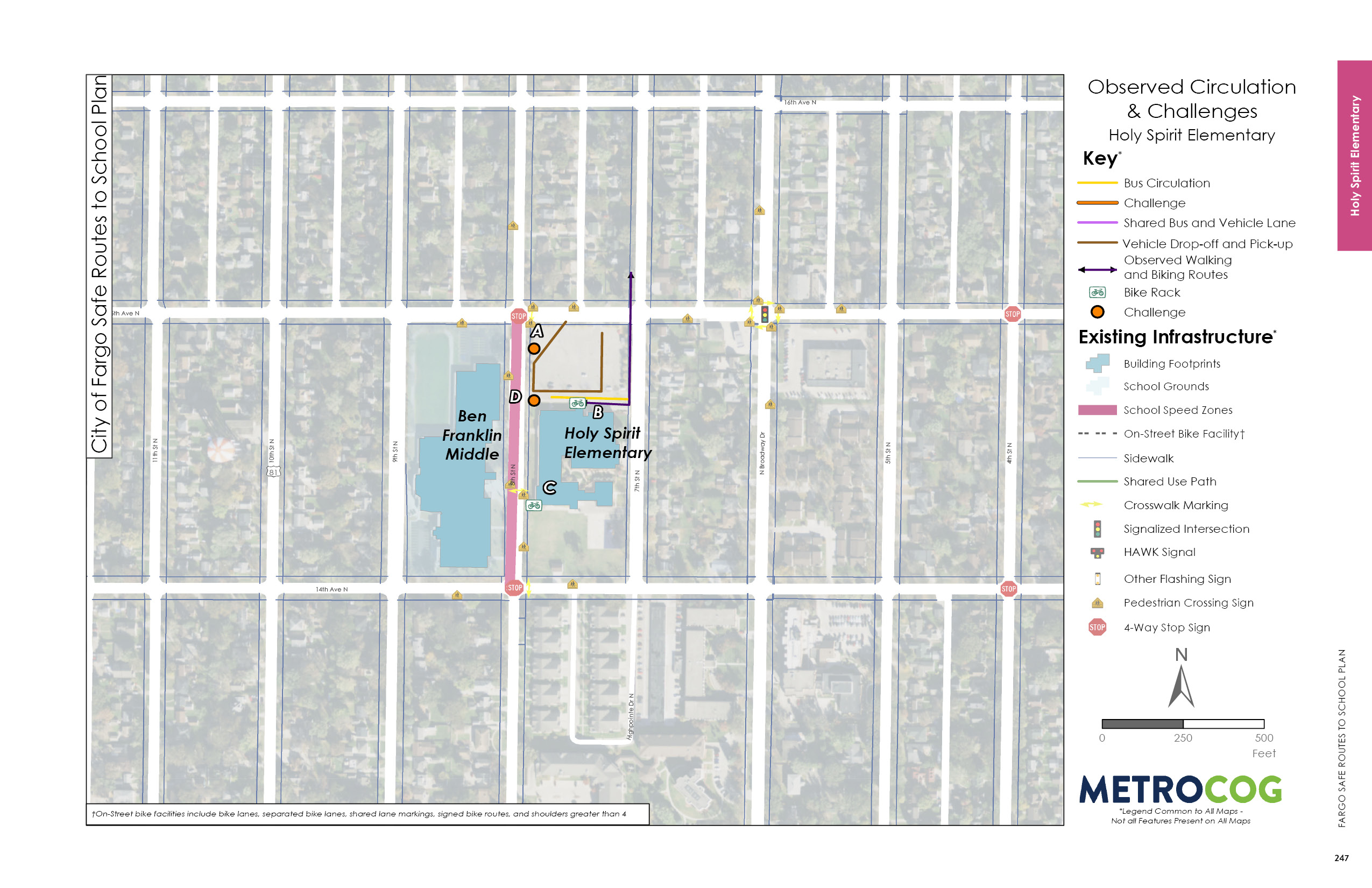 Opportunities for Improvement
Pedestrian and bicycle opportunities for improvement at Holy Spirit include adjusting the barricade across the western driveway so pedestrians may access the sidewalk to the main entrance from 8th Street N, upgrading bicycle parking, and coordinating with Ben Franklin administration to develop a policy and communication materials regarding Ben Franklin parents' use of the Holy Spirit parking lot.
See the Ben Franklin Middle section for additional opportunities for improvement in this area.
Suggested Safe Route To School
This map was designed to illustrate suggested routes to school for students based on existing infrastructure. Metro COG is not liable for anyone that uses this map.
Last Updated: February 2020