Washington Elementary
---
School District
Fargo Public School District #1
Grades
Kindergarten through 5
Average Enrollment:
348 students
Arrival is 8:40 AM
Dismissal is 3:02 PM
Existing Conditions
Washington Elementary is a Kindergarten through 5th grade school in the Fargo Public School District. The school is located approximately 1.5 miles north of downtown Fargo in the city's Washington Neighborhood. The neighborhood consists primarily of residential land uses. Within the Washington boundaries, per capita income is slightly lower than the district average, but the median household income is slightly higher. Nearly one-quarter of Washington's students are eligible for free and reduced lunch programs. Seven percent of students participate in English Language Learners programs.
The Washington school facility was built in 1953. The Washington Elementary campus is bound by Broadway to the west, 18th Avenue N to the north, an alleyway to the west, and 17th Avenue N to the south. The campus is directly adjacent to North High School to the west. The roads surrounding the campus are predominantly local roadways, but the school is located directly adjacent to Broadway, a medium traffic volume roadway. The parent pick-up/drop-off location is located along Broadway.
There are sidewalks on at least one side of the roadway throughout most of the walk zone. Existing major corridors, such as Broadway and 19th Avenue N have adequate infrastructure in place to account for safe walking corridors for access to this school site, including a school speed zone on 17th Avenue N and Broadway.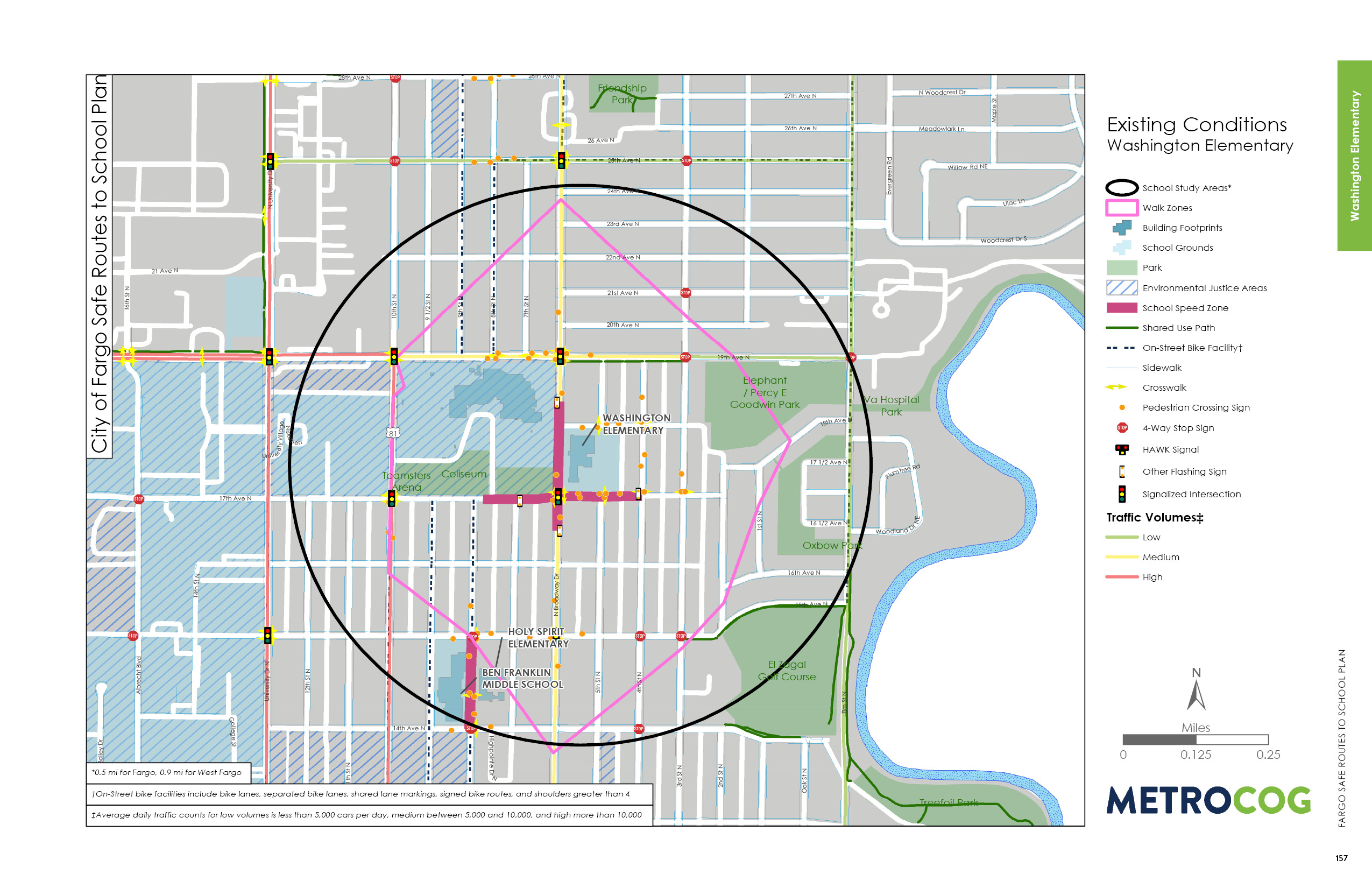 Observed Circulation & Challenges
There were many barriers identified surrounding the Washington Elementary campus.
Along 19th Avenue N, crossings at 4th Street N and 5th Street N lack ADA compliant facilities, including curb ramps. The intersection with 4th Street N was identified as a barrier by the principal.
17th Avenue N is the primary east-west circulation route for students walking and biking to school. The intersections of Broadway and 4th Street N were identified as barriers by parents and caregivers. At the Broadway intersection, drivers were observed blocking the crosswalk, creating potential conflicts for students walking or biking to school. At the 4th Street intersection, there is a 2-way (east-west) stop with poor yielding behavior for crossing pedestrians. Additionally, there is only one marked crosswalk on the north crossing at 4th Street N and 17th Avenue N.
Many parents/caregivers were observed parking on 17th Avenue N and on Broadway south of 17th Avenue N and walking to the entrance to meet students.
The primary bus drop-off is in the parking lot on the south side of the school off of 17th Avenue N. Special education buses use 18th Avenue N, on the north side of the school. During engagement, parents/caregivers noted that it can be difficult for buses to take the left turn from 17th Avenue N into the parking lot which results in congestion issues and challenges for students crossing 17th Avenue N to and from the school. Some parents were observed using the parking lot and bus circulation area for private vehicle drop-off.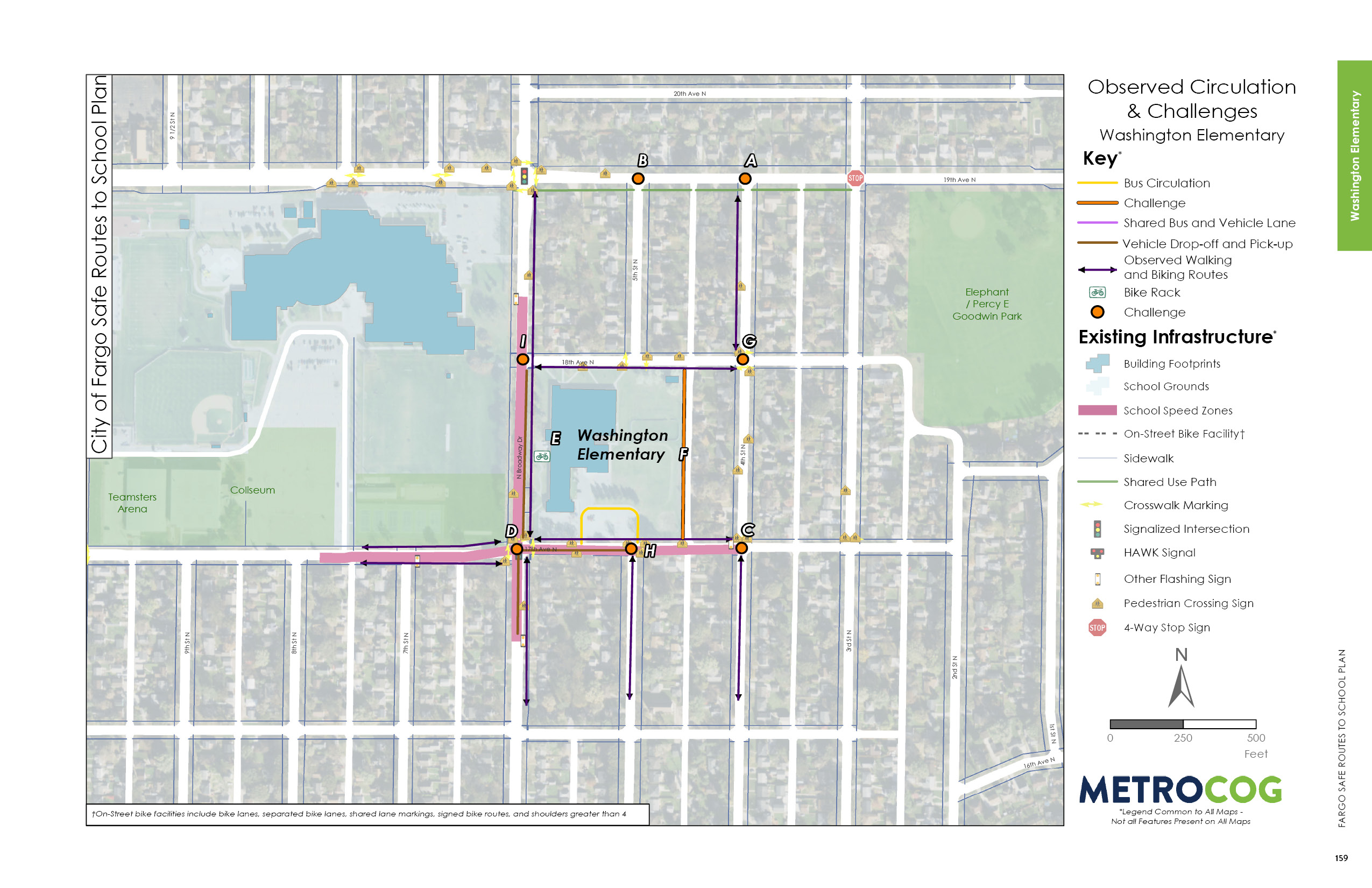 Opportunities for Improvement
The intersections of 4th Street N at 18th Avenue N and 17th Avenue N are both identified as high impact opportunities for improvement. Potential improvements include converting both intersections to 4-way stops, installing high visibility crosswalk markings on all sides, and adding curb extensions to reduce pedestrian crossing distances and increase visibility. A leading pedestrian interval is recommended at the intersection of Broadway and 17th Avenue N to give pedestrians a head start when crossing the street ahead of turning motorists.
Existing bicycle parking by the main entrance is well-located, but could be upgraded to a more secure style.
Programmatic strategies including remote drop-off/pick-up locations or drop-and-walk events may also help alleviate congestion related to parent pick-up and drop-off near the school while also creating opportunities for more students to build walking into their day.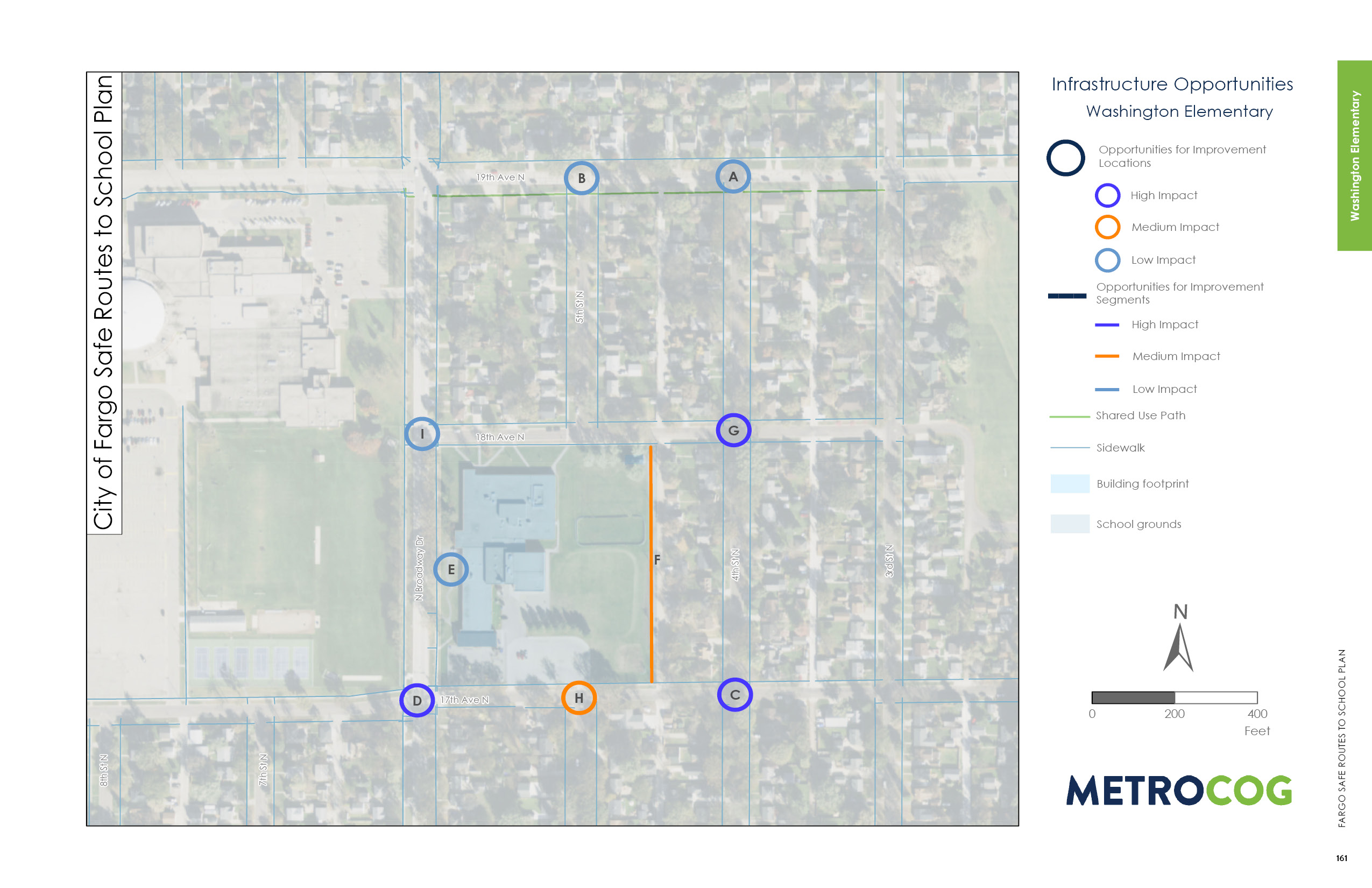 Suggested Safe Route To School
This map was designed to illustrate suggested routes to school for students based on existing infrastructure. Metro COG is not liable for anyone that uses this map.
Last Updated: February 2020