Osgood Elementary
---
School District
West Fargo Public School District #6
Grades
Kindergarten through 5
Average Enrollment:
413 students
Arrival is 8:00 AM
Dismissal is 2:40 PM
Existing Conditions
Osgood Elementary is a kindergarten through 5th grade school in the West Fargo Public School District. The school is located approximately 4 miles south of downtown West Fargo. Approximately 31 percent of Osgood Elementary students qualify for free and reduced meals and 7.4 percent are English language learners.
The school was constructed in 2009 and since then has gone through additions in 2012 and 2013. The school is bound by Veterans Boulevard to the west, 44th Avenue S to the north, and Osgood School Park to the south and east. Surrounding land uses are primarily medium to lower density residential. Sheyenne
High School is located approximately a quarter mile north of Osgood Elementary.
Veterans Boulevard is a high traffic volume roadway that is uncomfortable to cross, but has adequate infrastructure in place for safe walking parallel to it.
Shared use paths exist along Veterans Boulevard, 44th Avenue S, and through Osgood School Park. Most surrounding residential streets have sidewalks on both sides of the street. However, sidewalks are missing in the developments east of 53rd Street S.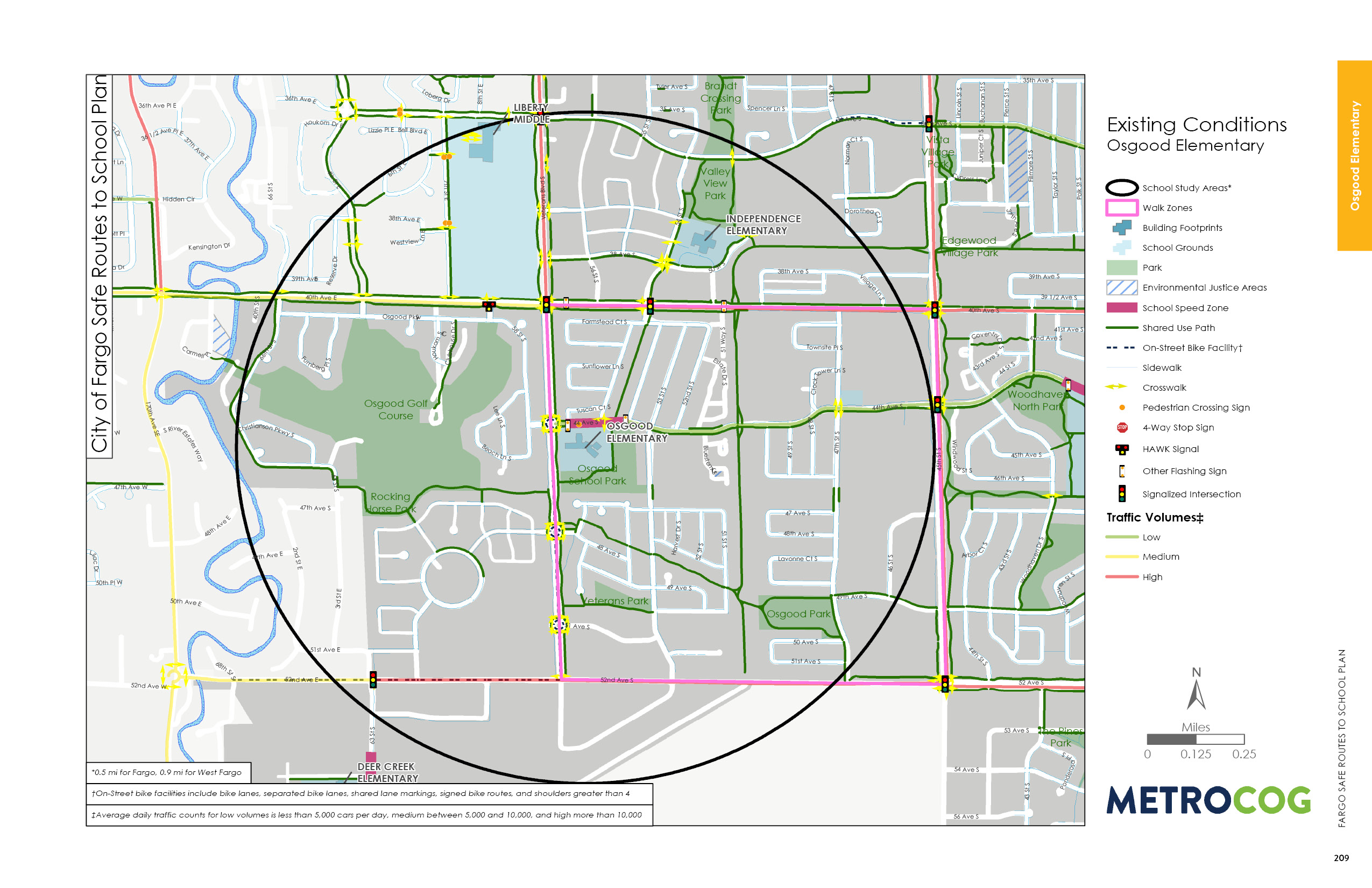 Observed Circulation & Challenges
Osgood Elementary is located in a suburban-style development with limited connectivity across housing developments. There are multiple sidewalk gaps surrounding the Osgood Elementary campus, specifically connecting existing sidewalks around the school building and to trails on the property's perimeter. There is no pedestrian circulation route along the south parking lot connecting to Veterans Boulevard, or along the north parking lot around the school.
44th Avenue S is the primary east-west circulation route for students walking and biking to school. There is limited visibility of crossing pedestrians at the 55th Street S intersection, especially in the winter.
Veterans Boulevard is a major barrier for students walking and biking to school. It is a high traffic volume corridor, with observed high-speed traffic and many observed distracted drivers at the round-a-bout at 44th Avenue S. The south school access does not include protected pedestrian crossing infrastructure. The driveway is wide with large curb radii that encourages high speed turns in to and out of the parking lot.
A school speed zone exists on 44th Avenue S along the school property. However, no school speed zone is installed on any portion of Veterans Boulevard along Osgood.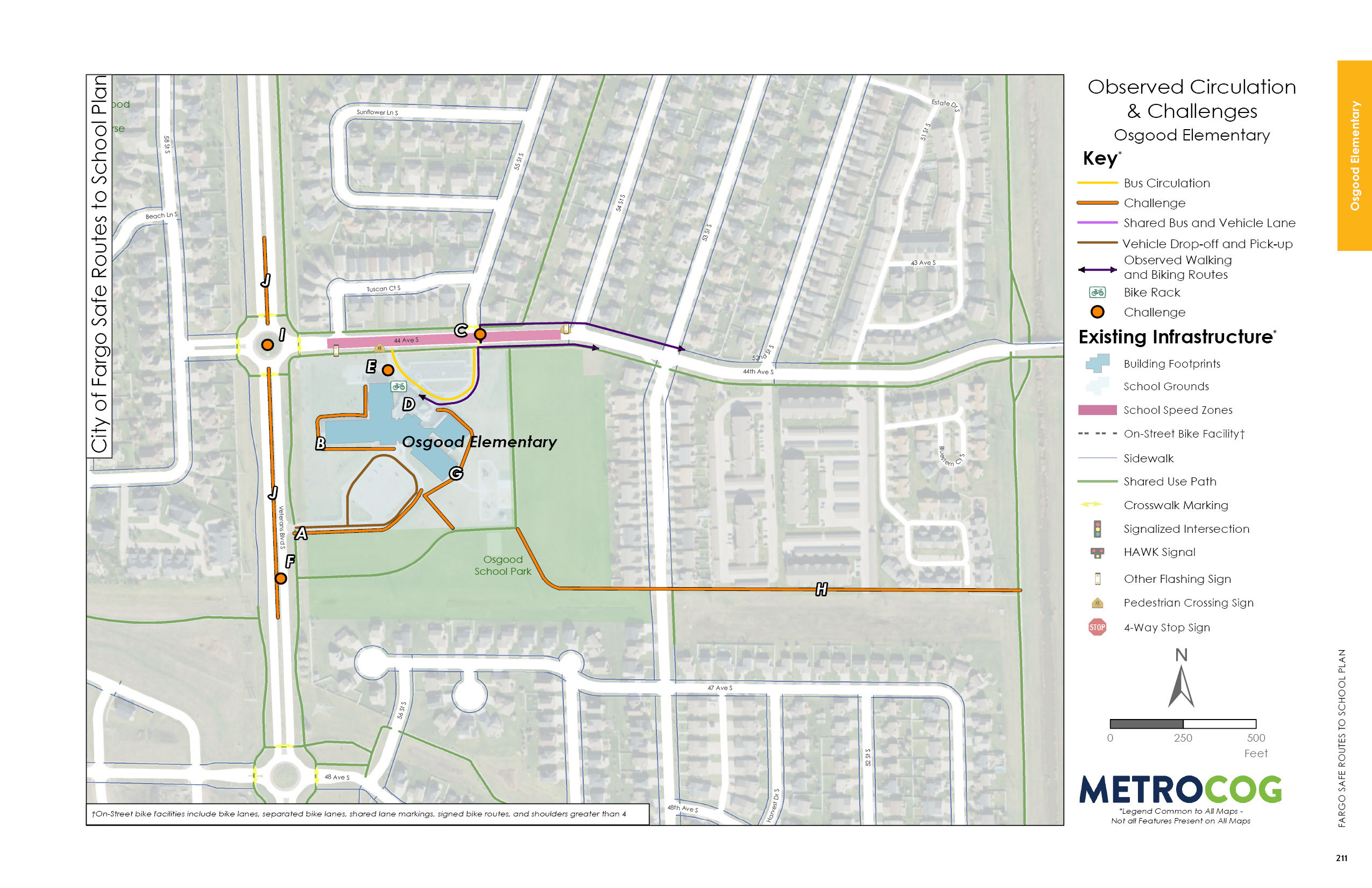 Opportunities for Improvement
With no pedestrian space existing to connect students and families from Veterans Boulevard to the school, installing a sidewalk or shared use path along the entrance loop should be a high impact. Students were also observed walking to the southeast of school through the open field. Installing a shared use path or sidewalk here would connect these neighborhoods to Osgood.
Off campus, a median safety island and RRFB exists at the crossing at 55th Street S and 44th Avenue S. However, families mentioned that students are difficult to see in the dark and when snow is stored at the crossing.
On Veterans Boulevard, improvements should be made where the existing shared use path intersects south of campus. Shortening the crossing distance and using the existing median would provide students and families with a more comfortable crossing of this high traffic volume street. In addition, installing flashing school speed zone signs on Veterans Boulevard would help bring awareness to the school area and pedestrians.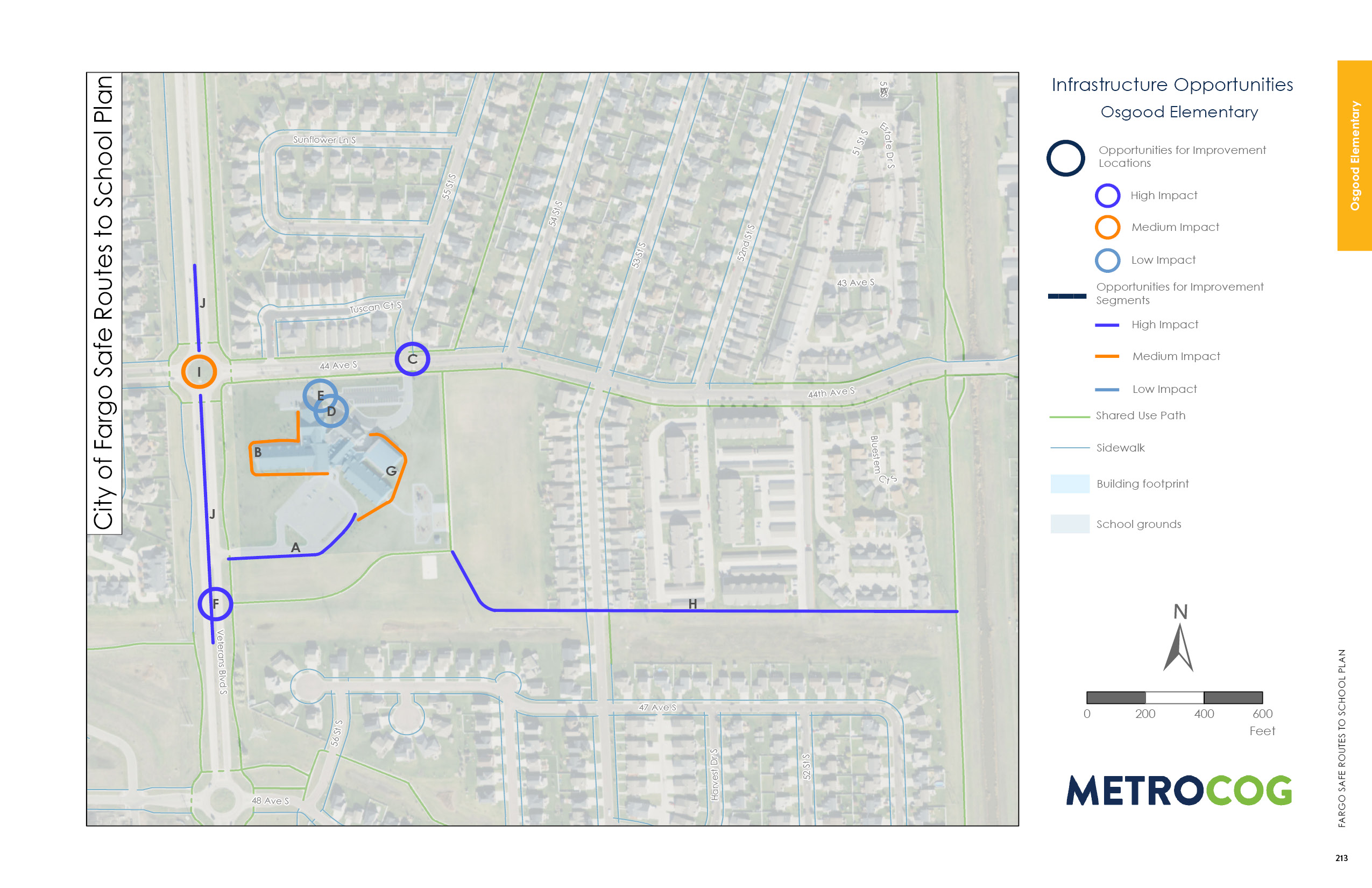 Suggested Safe Route To School
This map was designed to illustrate suggested routes to school for students based on existing infrastructure. Metro COG is not liable for anyone that uses this map.
Last Updated: February 2020