McKinley Elementary
---
School District
Fargo Public School District #1
Grades
Kindergarten through 5
Average Enrollment:
167 students
Arrival is 8:30 AM
Dismissal is 2:52 PM
Existing Conditions
McKinley Elementary is a Kindergarten through 5th grade school in the Fargo Public School District. It is located approximately 2.5 miles north of downtown Fargo in the city's Northport Neighborhood. The neighborhood consists of primarily residential land uses and commercial retail. Within the McKinley boundaries, per capita income is slightly less than the district average, as well as, the median household
income. Over half of McKinley's students are eligible for free and reduced lunch programs. Less than four percent of students participate in English Language Learners programs.
The McKinley school facility was constructed in 1958. The McKinley campus is bound by 10th Street N to the west, 30th Avenue N to the north, 8th Street N to the east, and 29th Avenue N to the south. Higher traffic volume roadways near McKinley Elementary include University Drive N to the west, 32nd Avenue N to the north, Broadway to the east, and 28th Avenue N to the south. There are sidewalks on both sides of the roadway throughout most of the walk zone. Existing major corridors have sidewalks and some pedestrian crossing signage in place to account for safe walking corridors for access to this school site, however, there are no school speed zones for McKinley Elementary.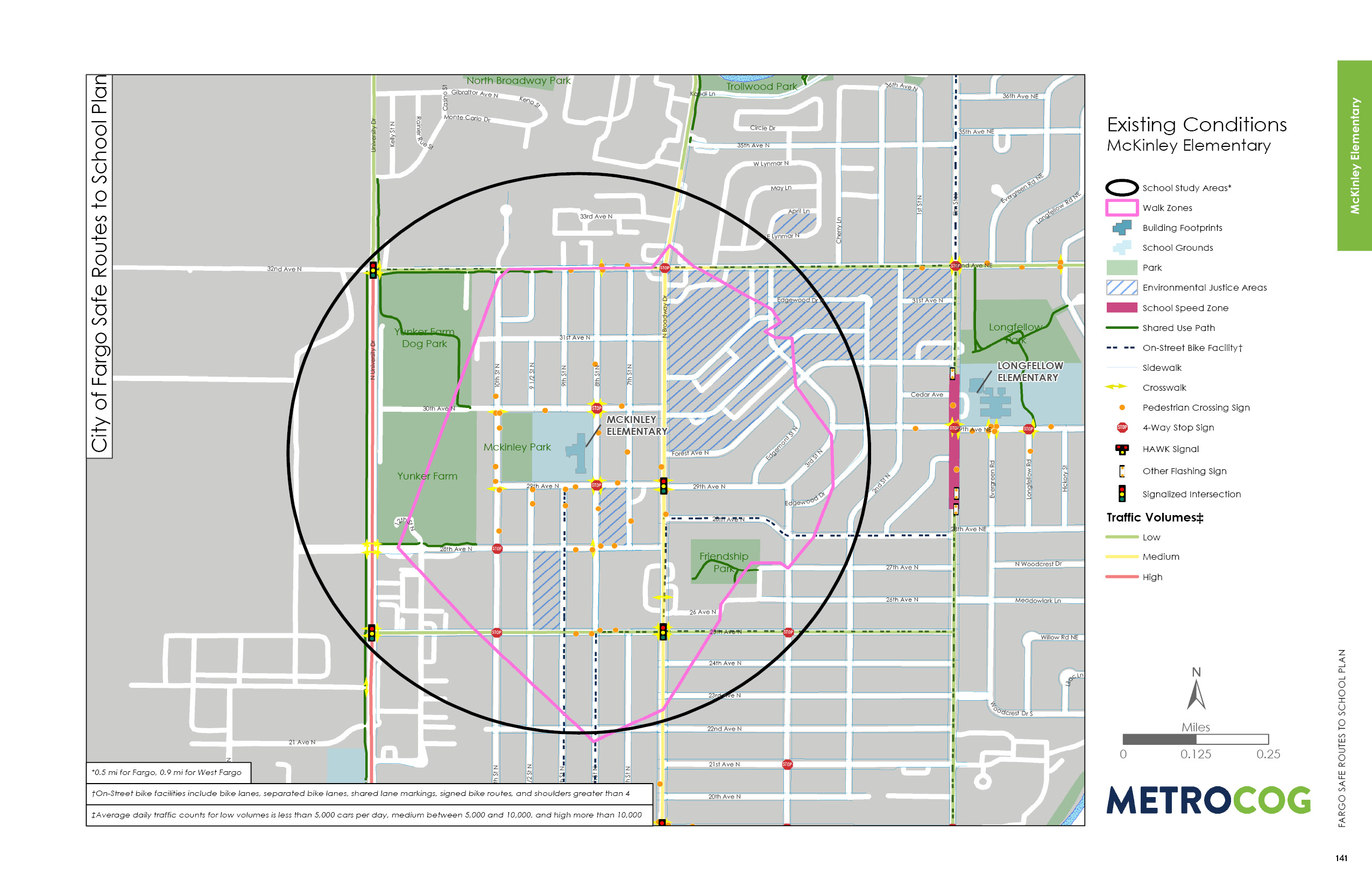 Observed Circulation & Challenges
Challenges and opportunities near McKinley Elementary are primarily focused on high traffic volume roadways near the school.
Broadway was identified as a barrier for students walking and biking to school by school administrators and caregivers. It's a medium volume corridor with long crossing distances, observed speeding, and very few enhanced crossing locations. Many students live in a multifamily housing development on the east side of Broadway. This housing development also qualifies as an Environmental Justice Area. 30th Avenue N and Broadway is an uncontrolled intersection with no pedestrian crossing amenities. The only protected pedestrian crossing is a traffic signal at 29th Avenue N, which is not direct or convenient for students who live north of 30th Avenue N.
Many students were observed crossing 28th Avenue N at 8th Street N and 9th Street N. The intersection of 28th Avenue N and 8th Street N was specifically identified as a barrier in the caregiver survey due to traffic speeds and poor driver yielding behavior. There is a faded marked crosswalk on the west leg of the 28th Avenue N/8th Street N intersection, and pedestrian crossing signage. Similar conditions exist at all intersections along 28th Avenue N, which creates further barriers for students who walk or bike to and from school.
There is no school speed zone for McKinley Elementary, so drivers may not be aware of the school's presence or when students are likely to be traveling to/from school.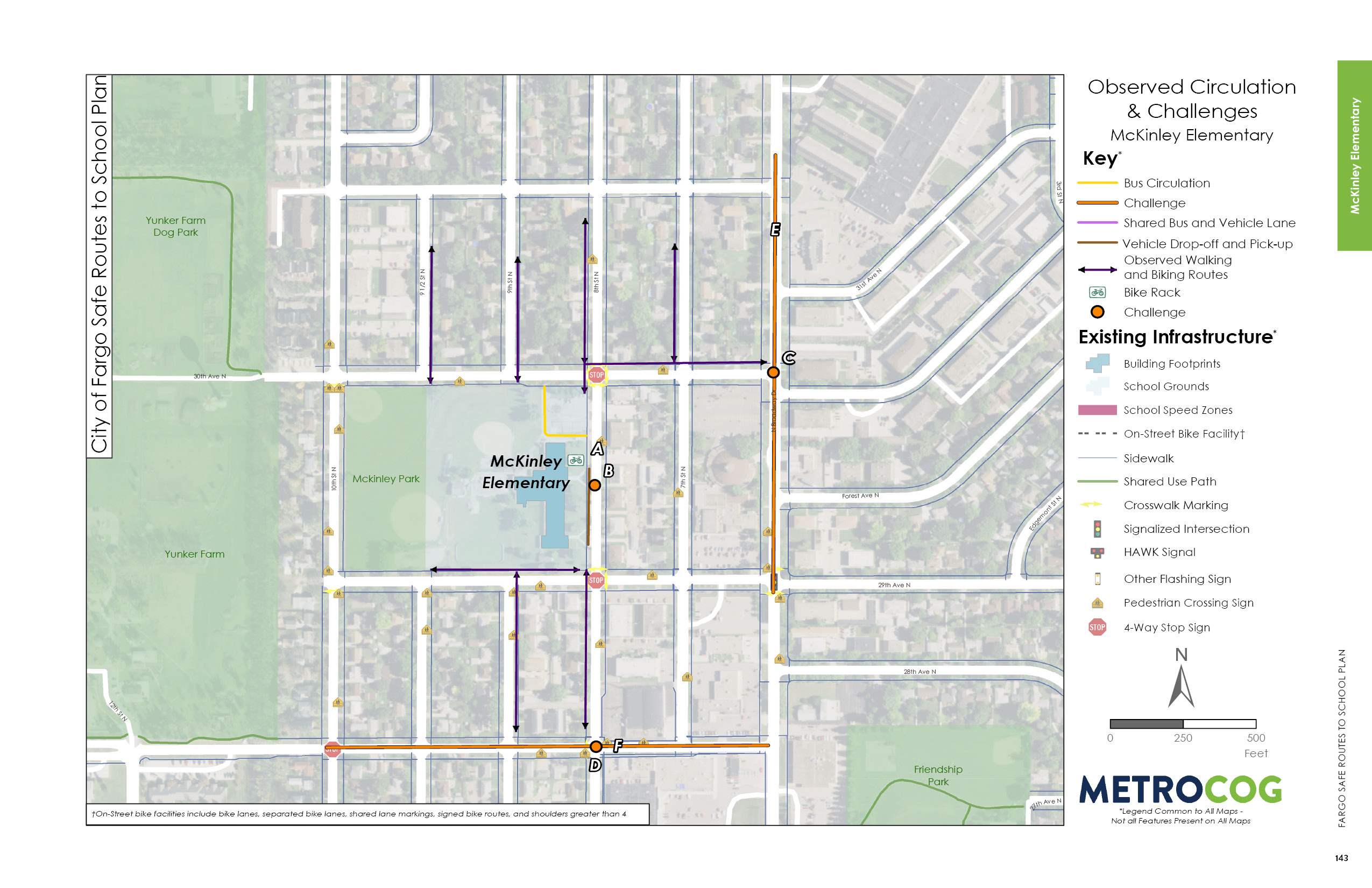 Opportunities for Improvement
At McKinley, the high impact opportunity is to improve pedestrian crossings at the intersection of Broadway and 30th Avenue N. Despite living only two blocks east of McKinley, many students who live in the multifamily apartment buildings east of Broadway do not walk to school due to the challenges at this intersection. Potential improvements are focused on reducing pedestrian crossing distances, increasing visibility of pedestrians, and improving driver yielding behavior. This plan also recommends taking a more corridor-wide view of Broadway to identify strategies to calm traffic and improve conditions for people walking and biking on a broader scale.
Additional opportunities for improvement for McKinley Elementary school include relocating and upgrading bicycle parking to a more convenient and prominent location, exploring opportunities for a midblock crossing to the school's main entrance, and enhancing the pedestrian crossing at 28th Avenue N and 8th Street N.
As development continues to intensify to the north, additional improvements may be needed to better connect new residents to McKinley Elementary from north of 32nd Avenue N.
Additionally, establish a school speed zone with light that flashes during arrival and dismissal to increase awareness and encourage slower traffic speeds when students are likely to be walking or biking to and from school.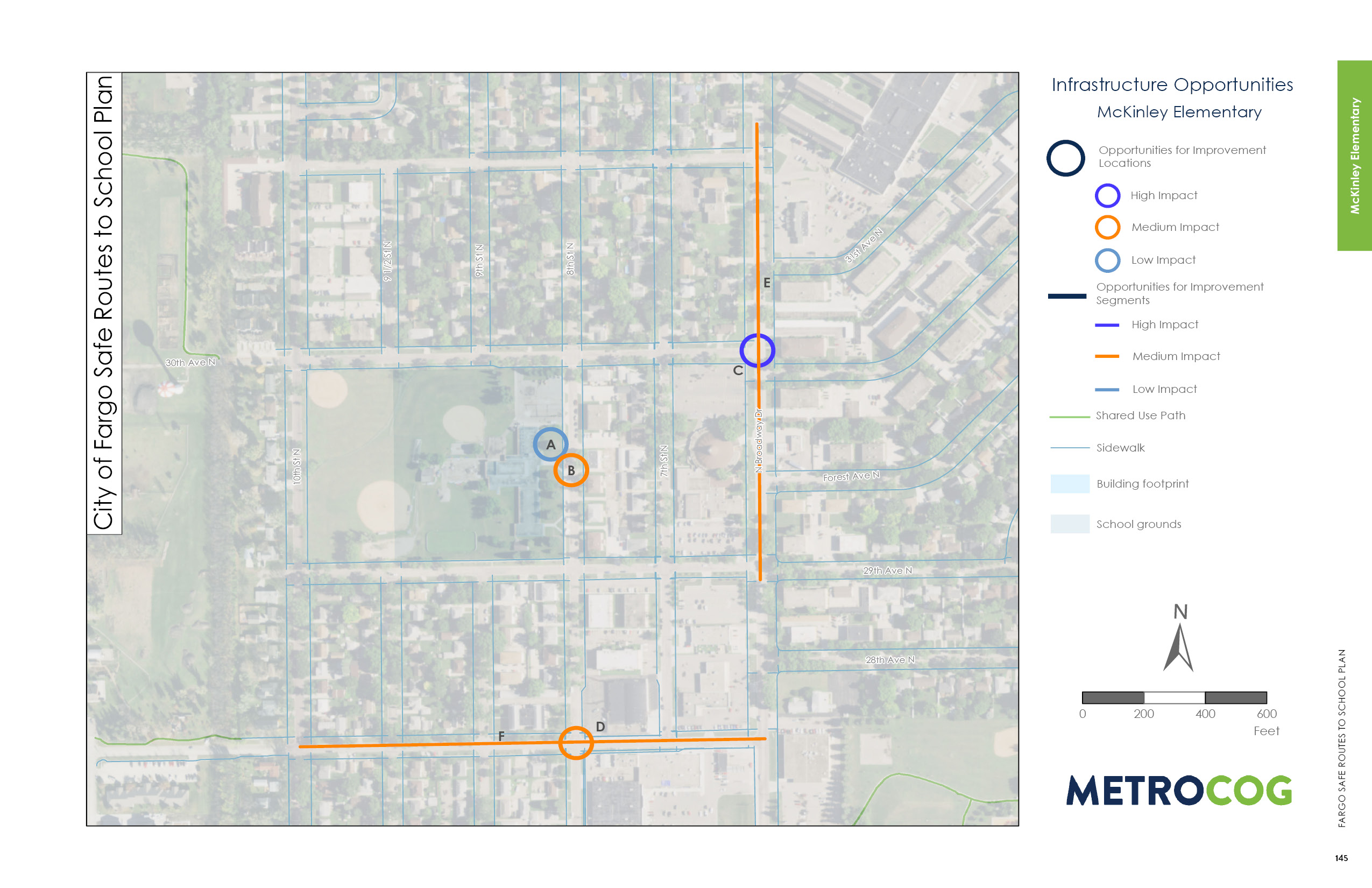 Suggested Safe Route To School
This map was designed to illustrate suggested routes to school for students based on existing infrastructure. Metro COG is not liable for anyone that uses this map.
Last Updated: February 2020