Longfellow Elementary
---
School District
Fargo Public School District #1
Grades
Kindergarten through 5
Average Enrollment:
366 students
Arrival is 8:30 AM
Dismissal is 2:52 PM
Existing Conditions
Longfellow Elementary is a Kindergarten through 5th grade school in the Fargo Public School District. It is located approximately 5 miles northeast of downtown Fargo in the city's Longfellow Neighborhood. The neighborhood consists primarily of residential land uses. Within the Longfellow boundaries, per capita income is greater than the district average, as well as, the median household income. Less than eight percent of Longfellow's students are eligible for free and reduced lunch programs. Less than two percent of students participate in English Language Learners programs.
The Longfellow school facility was constructed in 1962. The campus is bound by Elm Street N to the west, 32nd Avenue NE to the north, Maple Street N and Hickory Street N to the east, and 29th Avenue NE to the south. Elm Street N is a collector roadway and pulls traffic from the adjacent local roadways. The remaining roads surrounding campus are local roads with primarily localized traffic patterns.
There are sidewalks on both sides of the roadways throughout most of the walk zone. Multiple crosswalks are available to students crossing roadways adjacent to the Longfellow campus. A school speed zone is also present on Elm Street N between Forest Avenue N and 28th Avenue NE.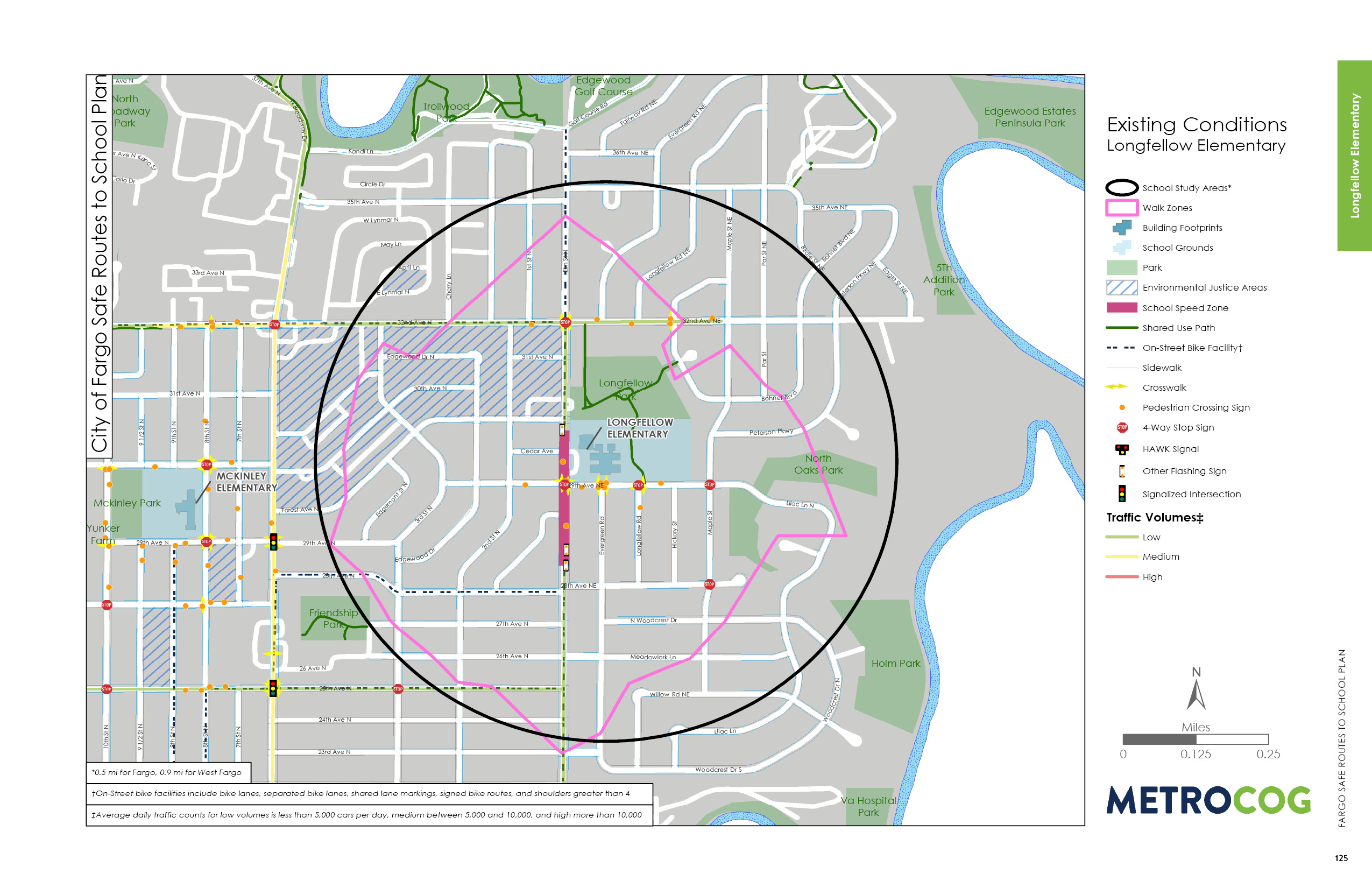 Observed Circulation & Challenges
On the Longfellow campus, a variety of challenges and opportunities were identified to improve walking and biking to school.
29th Avenue NE was observed as the primary east-west circulation route for students walking and biking to school. There is a vehicle pull off area on the north side of 29th Avenue NE along the south edge of campus that results in longer crossings at Evergreen Road, and conflict points with students and vehicles. At the skewed intersection of 29th Avenue N and Elm Street N, cars were observed encroaching on the crosswalks. Many students were observed crossing 29th Avenue NE at the Longfellow Road N intersection, an allway stop. Traffic volumes were observed to be higher at this location during arrival and dismissal, compared to the relatively low volumes of traffic throughout the rest of the day.
On Elm Street N, the school speed limit zone starts just one block north of the campus, which could be extended to the north to ensure plenty of time to decelerate. The bicycle shared lane markings on Elm Street N are poorly situated along the gutter and are often covered by parked cars along the east side of the street. Vehicles picking up or dropping off use a oneway vehicle and bus loop accessed from Elm Street N. There are two driveways near one another that are redundant and very wide, making it uncomfortable for crossing pedestrians. Many of the crossing locations along Elm Street N are wide, lack painted crosswalks and signage, and are therefore uncomfortable for young children to cross.
North of the campus is Longfellow Park with two trails. One goes north to 32nd Avenue NE and the other goes northeast to Hickory Street N. During the field observations, it was noted that drivers did not expect to see trail users crossing at either location. Neither location has a marked crosswalk or signage signaling the possibility of entering or exiting trail users.
In front of the school, there is no curb separating the sidewalk along the building from the parking lot and drive aisle. This allows drivers to encroach on the pedestrian space and creates visibility and safety issues for students walking and biking, especially during winter months.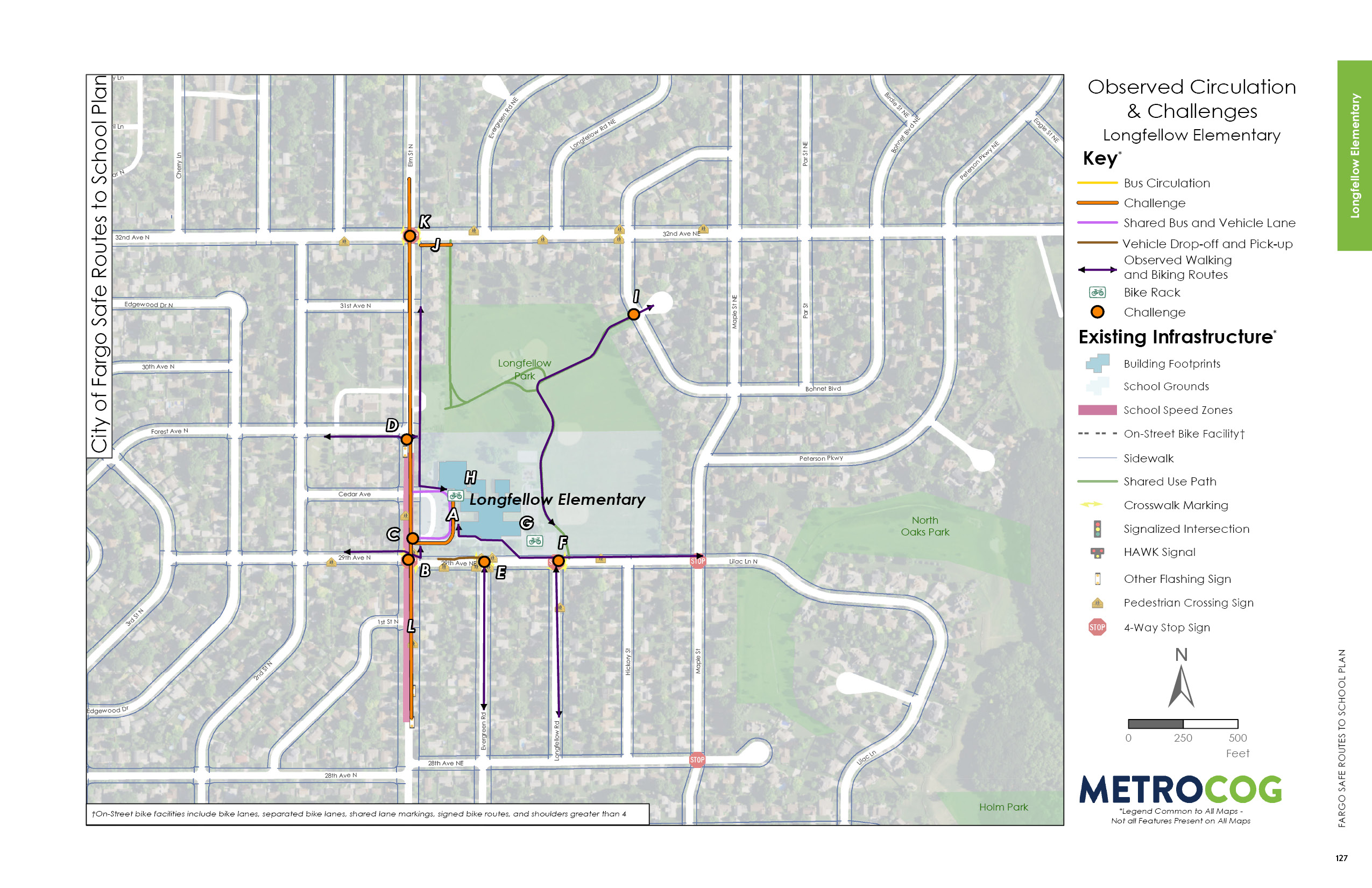 Opportunities for Improvement
For students and families walking and biking to Longfellow, Elm Street N presents the biggest challenge to safe and comfortable travel to school. Of the surrounding streets, it carries the highest traffic volumes and cars travel at the highest speeds. Because of this, improvements to the crossings of Elm Street N should be prioritized. The opportunities for improvement at Elm Street N and 29th Ave NE and Forest Ave N shorten the crossing distance, help to highlight the crossing, and decrease speeds as a result of a narrower right of way. In general, Elm Street N could be considered for traffic calming along the entire corridor. Many opportunities for improvement described along Elm Street N would help to calm traffic.
A number of improvements are recommended on campus, too. Providing a raised space along the drop off loop that is distinct from vehicle space is a high impact opportunity. This would help to delineate the space in which vehicles should drive and would provide a physical barrier to drivers encroaching on the pedestrian and bicycle space. Additionally, it is recommended to eliminate the middle parking lot driveway off Elm Street N. It causes confusion for drivers and adds another potential conflict point between drivers and people using the sidewalk.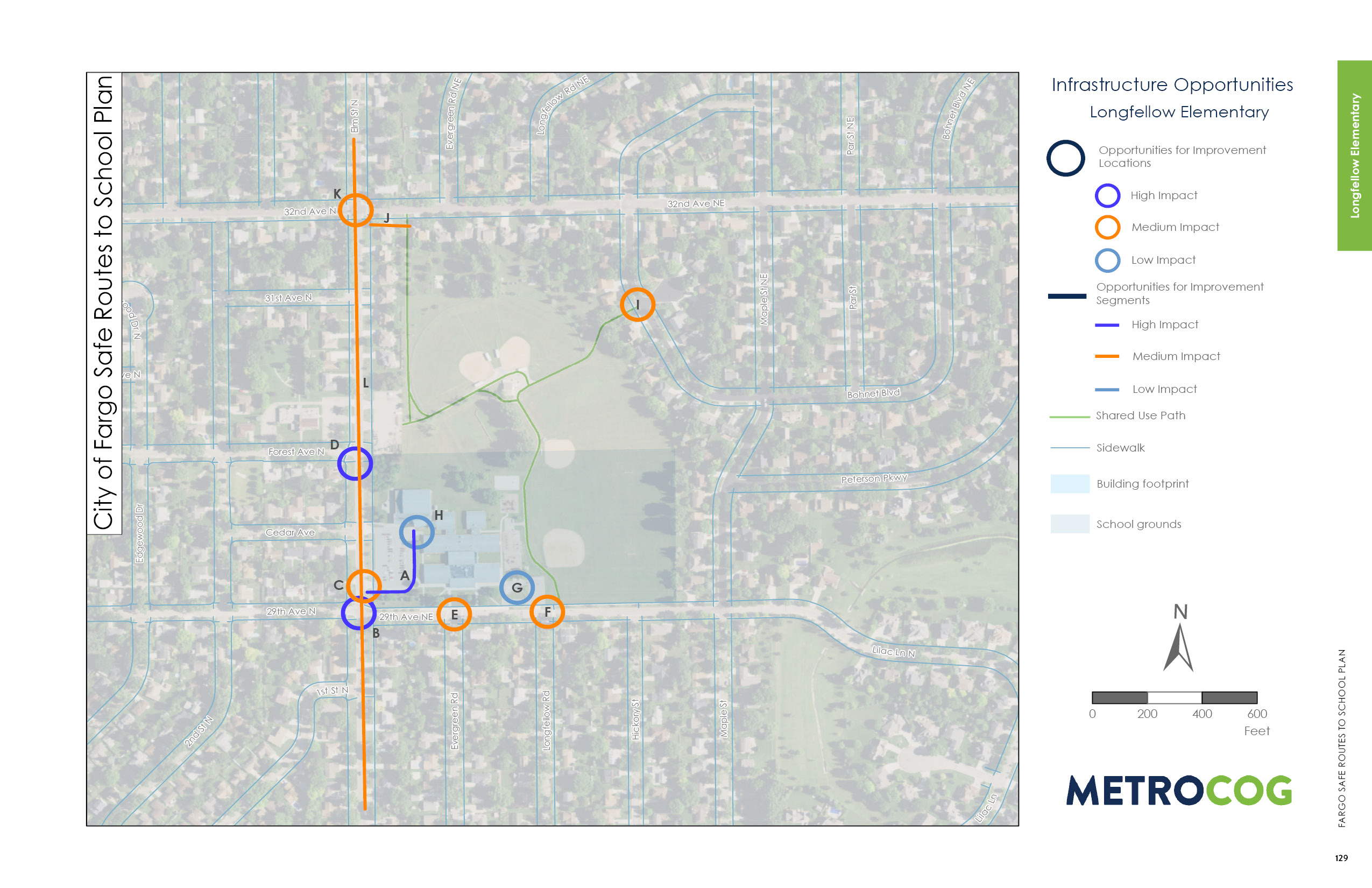 Suggested Safe Route To School
This map was designed to illustrate suggested routes to school for students based on existing infrastructure. Metro COG is not liable for anyone that uses this map.
Last Updated: February 2020