Lincoln Elementary
---
School District
Fargo Public School District #1
Grades
Kindergarten through 5
Average Enrollment:
404 students
Arrival is 8:20 AM
Dismissal is 2:42 PM
Existing Conditions
Lincoln Elementary is a Kindergarten through 5th grade school. It is located approximately two miles south of Downtown Fargo in the city's Lincoln Neighborhood with many high-density homes located nearby. Within the Lincoln boundaries, per capita and median household income is slightly lower than the district average. Over half of Lincoln's students are eligible for free and reduced lunch programs. Eleven percent of students participate in English Language Learners programs.
The Lincoln school facility was constructed in 1962. The campus is bound by 9th Street S to the west, 21st Avenue S to the north, Lincoln Park to the east, and 24th Avenue S to the south. University Drive S to the west of the school is a high speed, high traffic volume, major arterial roadway that creates a barrier to walking and biking. East of University Drive S, the roads are low speed with low traffic volumes, with limited connectivity due to the looping nature of the roadway network.
The only sidewalk gaps located east of University Drive S are along the north side of 21st Avenue S west of 11th Street S. School speed zones are present on 21st Avenue S from 10th Street S to the eastern edge of the Lincoln campus, as well as along 24th Avenue S from 10th Street S to approximately 300 feet east of 9th Street S. Directly in front of Lincoln Elementary, 9th Street S is not designated as a school speed zone, although it may be implied due to the location of the other school speed zones.
On campus, there are two bike racks located on the west side of the school. One bike rack is located by the entrance to the school and the other is located near the south parking lot. Both are comb style racks that do not allow for locking of the frame and can result in wheel damage.
A recycling facility is also located on campus at the southeast corner of the north parking lot and bus circulation area. Residents were observed accessing the recycling facilities during school hours.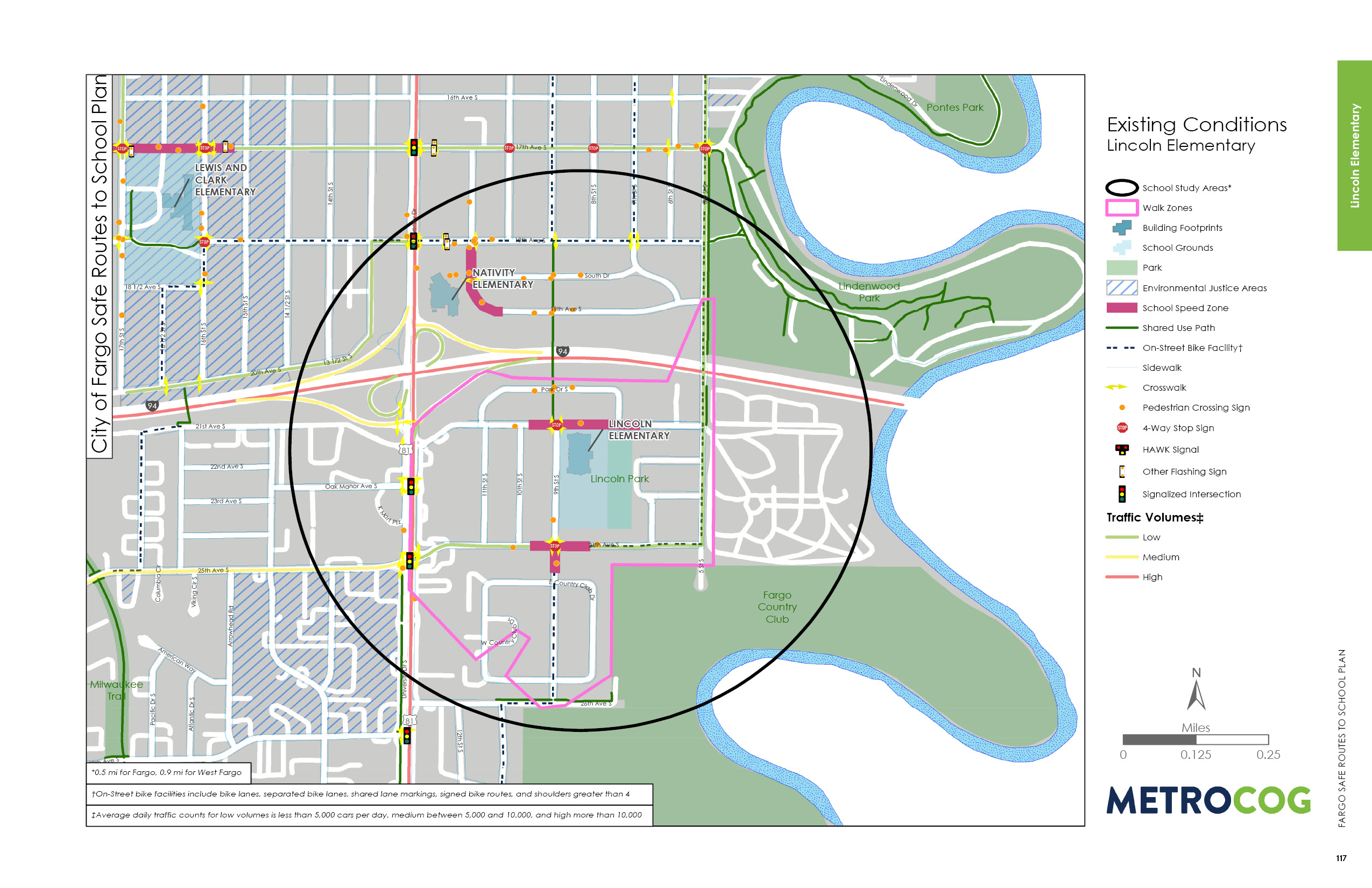 Observed Circulation & Challenges
The University Drive S corridor is the primary barrier for students walking and biking to Lincoln Elementary. At the intersection with 21st Avenue, there are no crossing facilities, despite being the primary connection from the school to housing west of University Drive S. For students to cross to the west side of University Drive S at this intersection, they must walk north to the light, wait for the light, cross 6 lanes, and wait for second light to cross south. Then there are no sidewalk facilities along 21st Avenue S, so students need to continue south to Oak Manor Avenue S to access the neighborhoods to the west of University Drive S. The Oak Manor Avenue S intersection does include a marked, but faded, crosswalk. This is a primary connection from the school to housing west of University Drive S, but the intersection is very uncomfortable for students to cross. University Drive S is considered a barrier for students walking and biking to school by the Fargo Public School District, so students who live west of University Drive S receive busing. At the 25th Avenue S intersection, the crosswalk is marked, but the long crossing and observed highspeed traffic makes crossing uncomfortable, including multiple free flow right turn lanes.
Multiple opportunities for improvements were identified along 21st Avenue S as well. 21st Avenue S is a wide roadway, making crossings long and uncomfortable for pedestrians and bicyclists. At both Park Drive S intersections, there are no marked crosswalks and drivers are not anticipating students crossing. The 9th Street S intersection is heavily used by people walking. During field reviews, drivers were observed rolling through the stop signs at this intersection, which is illegal and creates safety concerns for students crossing at these intersections.
The 9th Street S corridor is the primary north-south circulation route for students walking and biking to school. It is also the designated dropoff/pick-up location, with school administrators requesting vehicles to circulate in from the south from 24th Avenue S / 9th Street S dropoff/pick-up along the east side of 9th Street S, and exit 9th Street S at 21st Avenue S. This encourages students to enter/exit vehicles along the curb and not cross traffic. To further encourage this movement, this segment of roadway could be converted into a one-way.
The intersection with 24th Avenue S and 9th Street S has long crossings and is missing a crosswalk on the south leg of the intersection. There are sidewalks along both sides of 9th Street S, but they are only 5-feet wide, which causes people to walk or bike in the grass adjacent to the sidewalk. Widening the sidewalk along the east side of 9th Street S would create a more comfortable circulation route.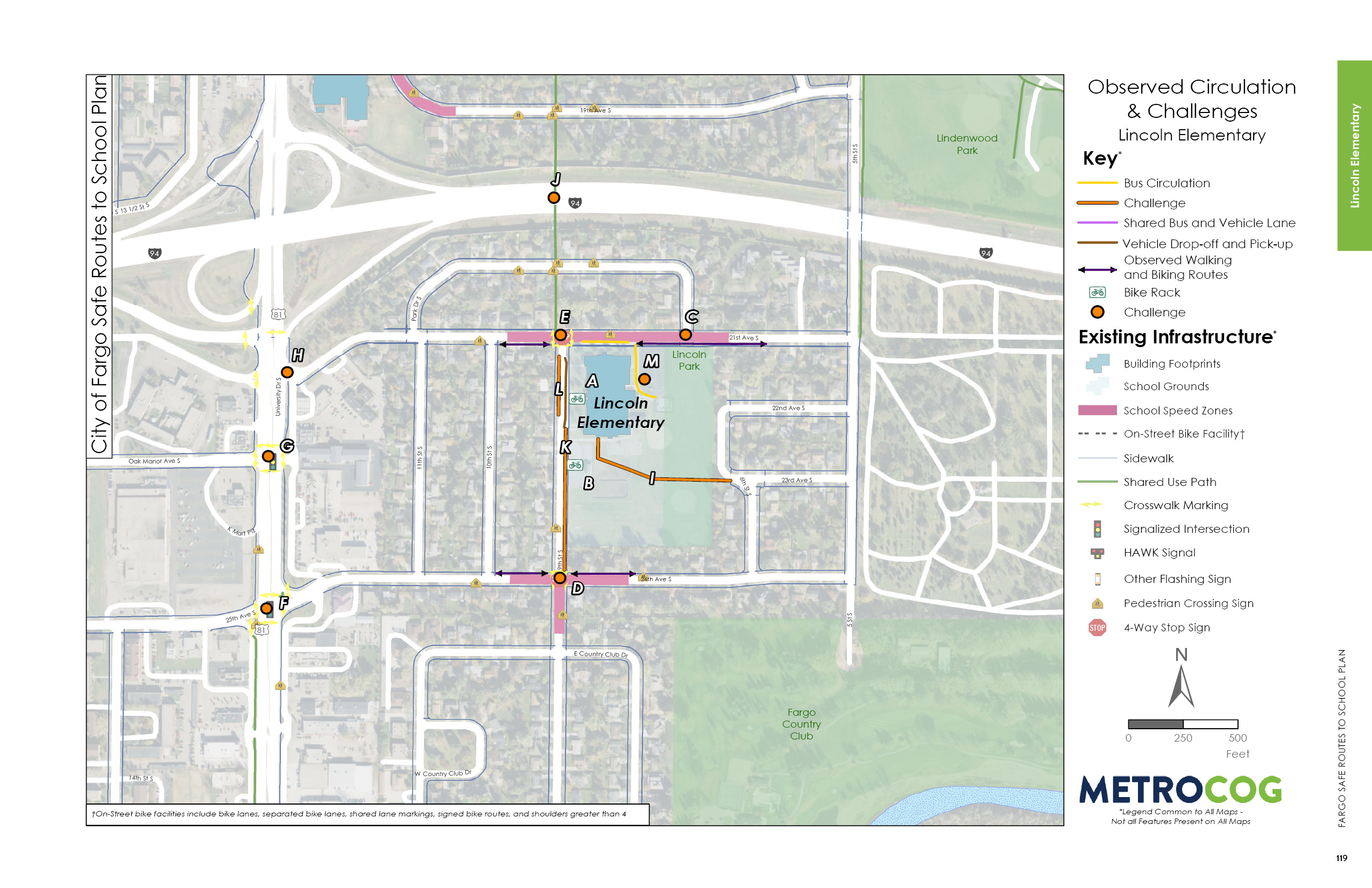 Opportunities for Improvement
Since most students live on the west side of University Drive S, many opportunities for improvement address ways to improve safety and comfort crossing this corridor. Because there is no longer a crossing at 21st Avenue S, students must cross at Oak Manor Avenue S or 25th Avenue South. Opportunities for improvement for these two intersections include installing leading pedestrian intervals, upgrades to high-visibility crosswalks, and opportunities to reduce the crossing distance.
On the east side of University Drive S, there are opportunities closer to campus to improve conditions for walking and biking. Widening the sidewalk (or building a sidepath) along the east side of 9th Street S would create an inviting and comfortable route from the intersection of 9th Street S and 24th Avenue S. There are opportunities to improve the intersections of 9th Street S/24th Avenue S and 9th Street S/21st Avenue S by exploring ways to reduce the crossing distance with curb extensions. Note that curb extensions could be created and evaluated using inexpensive materials such as flex posts and paint. See the demonstration project section of this document for more information. Crosswalks on primary walking routes to school should use high-visibility materials.
While the area north if I-94 is not currently with the school enrollment boundary, there is an existing tunnel under the freeway that provides direct access to residential areas to the north. If this becomes part of the enrollment area, efforts can be made to improve the comfort of people walking and biking through the tunnel by increasing lighting, reducing drainage/ice concerns, and providing placemaking opportunities.
Suggested Safe Route To School
This map was designed to illustrate suggested routes to school for students based on existing infrastructure. Metro COG is not liable for anyone that uses this map.
Last Updated: February 2020