Horace Mann Elementary
School District
Fargo Public School District #1
Grades
Kindergarten through 2
Average Enrollment:
355 students (with Roosevelt)
Arrival is 8:20 AM
Dismissal is 3:02 PM
Existing Conditions
Horace Mann Elementary is a kindergarten through 2nd grade school in the Fargo Public School District. It is located less than one mile north of Downtown Fargo in the city's Horace Mann Neighborhood. The neighborhood consists primarily of single-family residential land uses. Within the Horace Mann boundaries, per capita incomes and median household incomes are significantly lower than the district average. More than 41 percent of students are eligible for free and reduced lunch programs. Less than four percent of students participate in English Language Learners programs.
The Horace Mann school facility was constructed in 1915. In 2008, Horace Mann Elementary and Roosevelt Elementary schools were joined together with kindergarten through 2nd grades housed at the Horace Mann campus, while grades 3 through 5 attend Roosevelt Elementary. Prior to 2008, both schools
included kindergarten through 5th grade.
The Horace Mann campus is bound by 3rd Street N to the west, 11th Avenue N to the north, 2nd Street N to the east, and 10th Avenue N to the south. The roads surrounding the campus consist of local roads with primarily localized traffic patterns. There are sidewalks on both sides of the roadway throughout the walk zone. There are designated school speed zones on 2nd Street N between 11th Avenue N and 10th Avenue N and along Broadway between 12th Avenue N and 11th Avenue N.
Parents and caregivers dropping off and picking up use the parking lot on the east, but occasionally drop students off in the same loop as buses on the west, creating potential conflicts between users. Along the western edge of the parking lot driveway, there are no pedestrian facilities, which limits access to the school building from 10th Avenue N.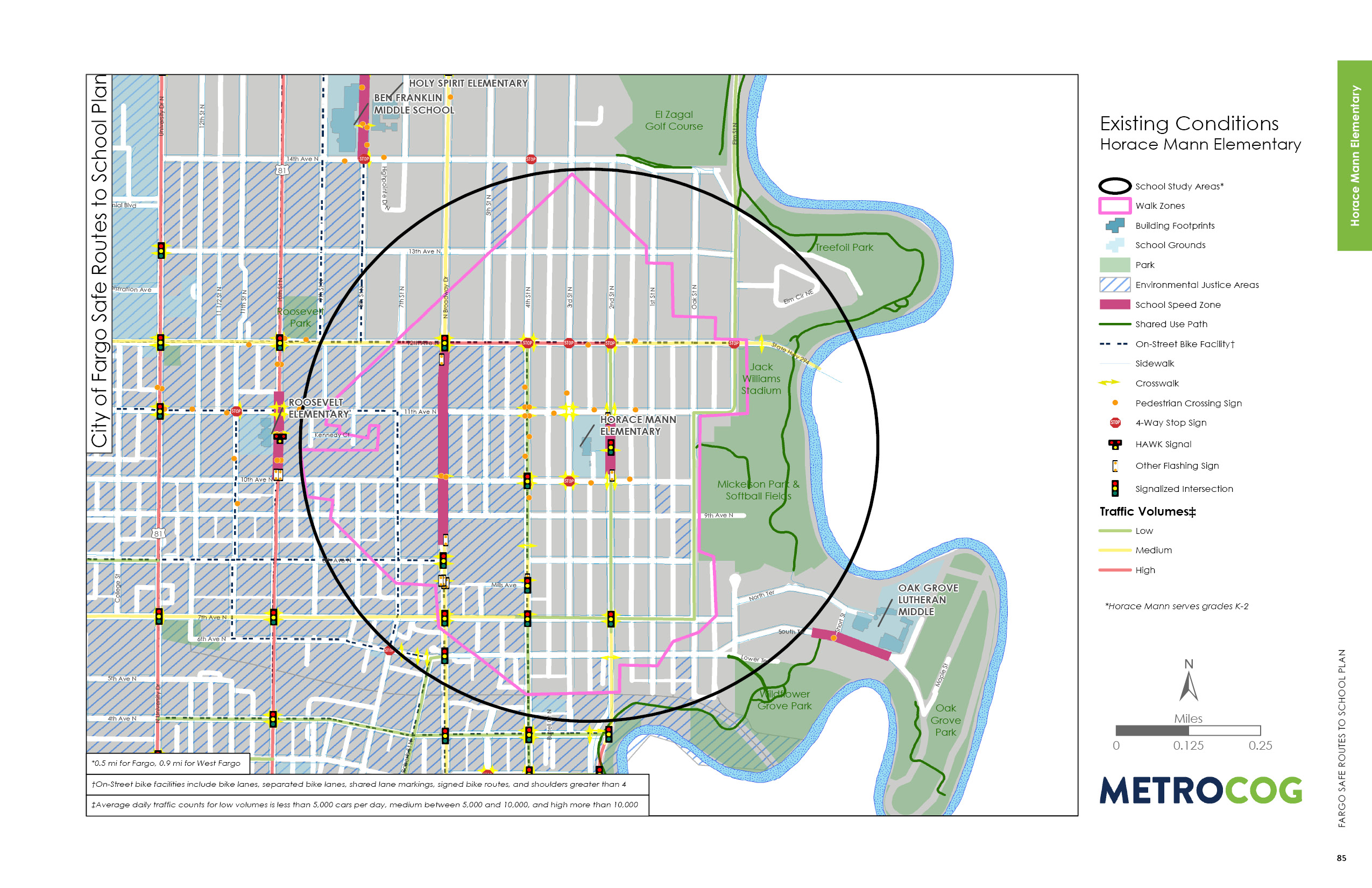 Observed Circulation & Challenges
The Horace Mann campus is a traditional neighborhood school, with a smaller campus and fewer vehicle spaces than some of the newer schools, often resulting in unique congestion and potential conflicts. On the west side, the loop is used by both parents and caregivers and buses, creating conflict and congestion.
On 2nd Street N and 3rd Street N, there are multiple locations that would benefit from improved crossings and pavement markings. There is a mid-block traffic signal on 2nd Street N that may need to be re-timed to be more responsive to the pedestrian activation. In multiple field observations, the time between activation and walk signal varied from eight seconds to 40 seconds.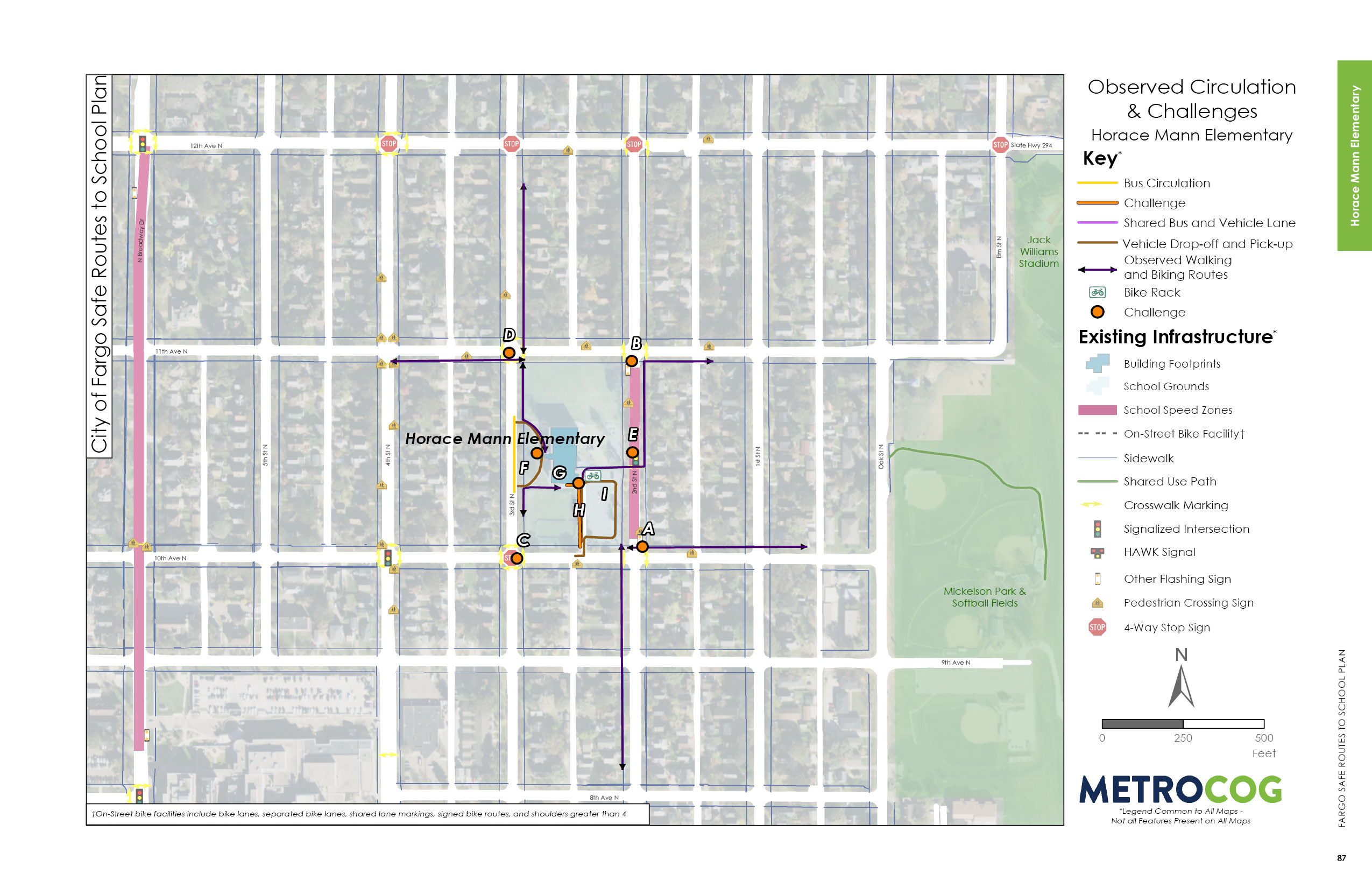 Opportunities for Improvement
Because the streets surrounding Horace Mann have relatively low traffic volumes and speeds, the highest impact opportunities for improvement are located on school grounds. In particular, installing a separated and raised space for people walking to the south door would likely increase comfort for students and families and decrease the chances for conflict between drivers and people walking. Additionally, the bus loop on the west side of school should be closed to parents and caregivers dropping and pick up students – this would limit potential conflicts.
Curb extensions on the four corners of campus to shorten crossings, increase visibility, and calm traffic are of lower impact because of existing traffic volumes and speeds, but should be considered to increase comfort for students and families.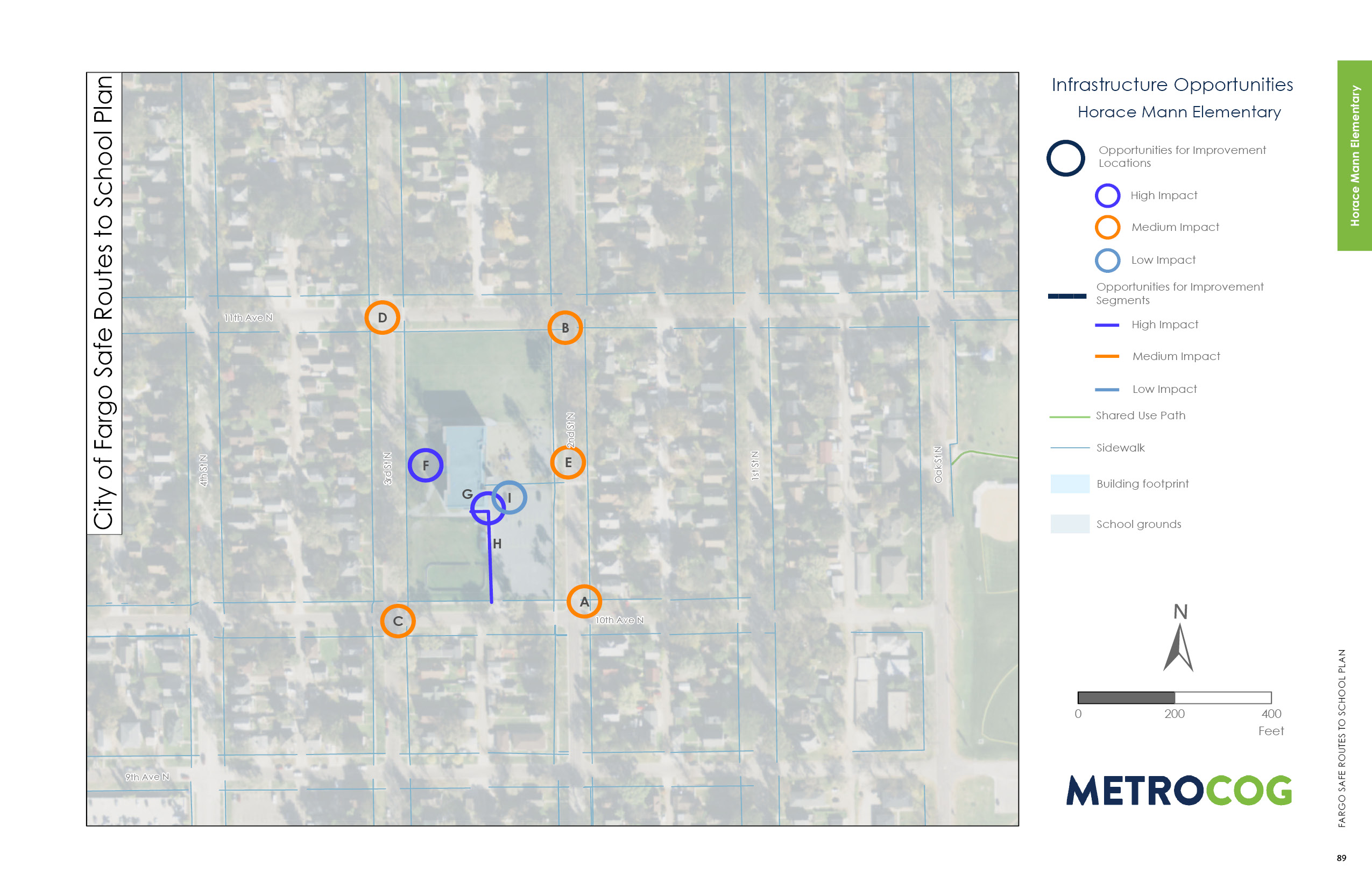 Suggested Safe Route To School
This map was designed to illustrate suggested routes to school for students based on existing infrastructure. Metro COG is not liable for anyone that uses this map.
Last Updated: February 2020