Ed Clapp Elementary
---
School District
Fargo Public School District #1
Grades
Kindergarten through 5
Average Enrollment:
485 students
Arrival is 8:20 AM
Dismissal is 2:42 PM
Existing Conditions
Ed Clapp is a kindergarten through 5th grade school in the Fargo Public School District. It is located approximately 3.5 miles south of Downtown Fargo in the city's Bluemont Lakes neighborhood. The neighborhood is a mix of residential single-family and multifamily and commercial land uses. Within the Ed Clapp boundaries, the per capita and median household incomes are slightly higher than the district average. More than 58 percent of students are eligible for free and reduced lunch programs. Nearly 16 percent of students participate in English Language Learners programs.
The Ed Clapp school facility was constructed in 2015. The campus is bound by 32nd Street SW to the west, 30th Avenue S to the north, 28th Street SW to the east, and the Dr. James Carlson Public Library to the south. There is a flashing beacon and raised crosswalk across 28th Street S east of the school.
Ed Clapp students and families who currently walk and bike to school face challenges when crossing 32nd Avenue S, as cars travel along it at faster speeds to access the interstate to the west. 32nd Avenue S is considered a barrier to biking and walking to school currently, so students that live south of 32nd Avenue S are bussed to school. There are multiple traffic signal controlled crossings along 32nd Avenue S and 25th Street S; however, these intersections are large and uncomfortable to cross. Additionally, 25th Street S and 32nd Avenue S are considered barriers/boundaries for busing students to/from school.
Currently, there are students whose backyards abut the school property who are eligible to receive busing because the half-mile walk zones are determined by roadway miles.
On campus, there is one bike rack located at the back of the school. This location is inconvenient and unwelcoming because students have to travel out of their way to access it and bike through the school's service areas. The rack is a comb style rack that does not allow locking of the frame and can lead to wheel damage.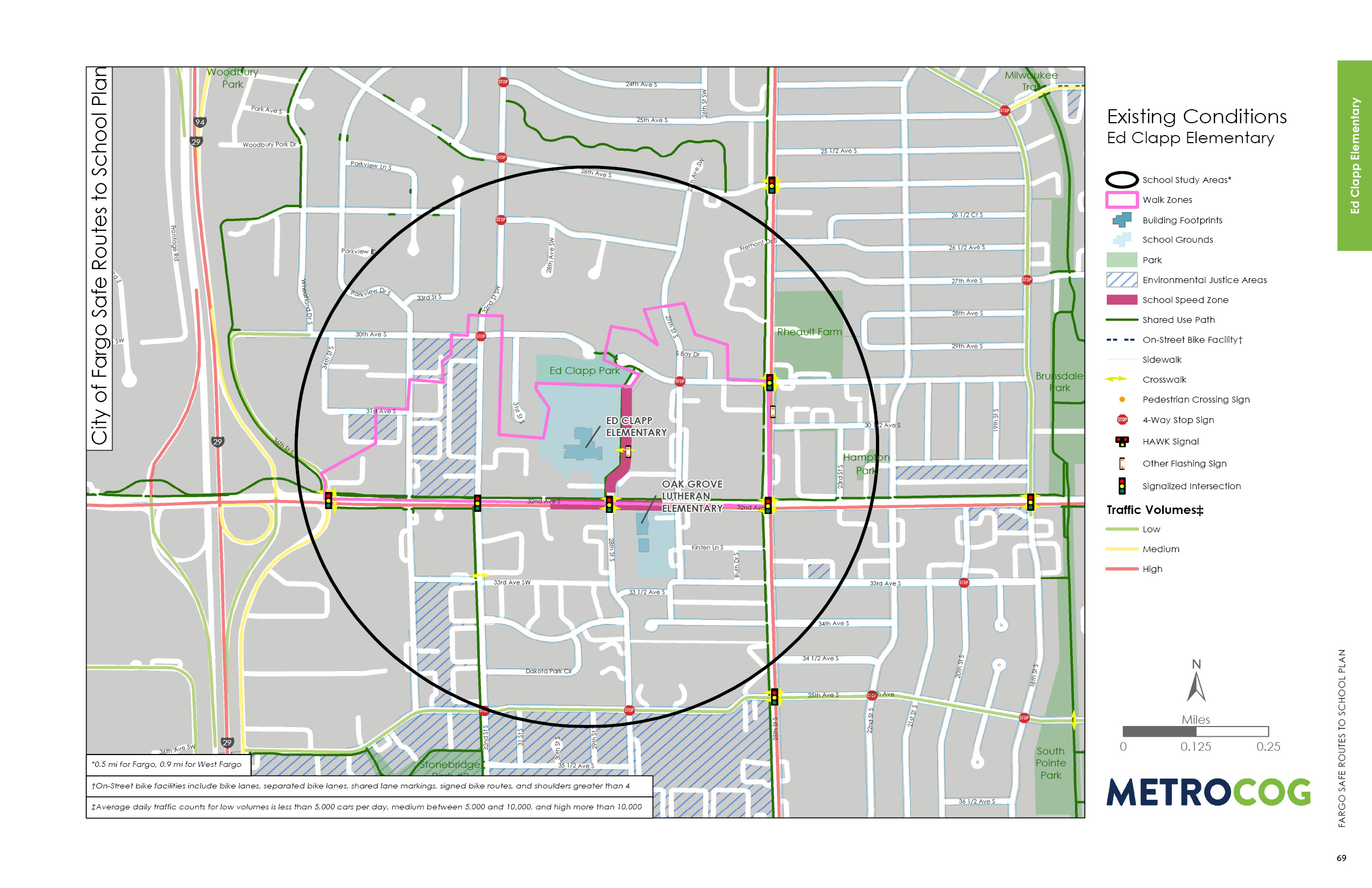 Observed Circulation & Challenges
Ed Clapp Elementary is surrounded by suburban style development and lacks safe or direct connections to the housing developments to the east and west, which results in students either not walking or biking to school, or cutting through the grass. Specifically, at the Park Place Apartments, east of campus, students were observed walking between garages to get to school (reference location C on the map).
Bike parking is inconvenient and away from the entrance of the school, located in the back of the school. This may also deter students from biking to school because they may not know it exists.
The school district pays to maintain the Bethel Church parking lot east of the school. Many parents and caregivers were observed dropping and picking students up in this lot, although this is not encouraged by the District. The Bethel Church parking lot driveway lacks markings and signage to alert drivers of potential pedestrian crossings, which causes vehicles to abruptly stop in the driveway and multiple near-misses were observed. Additionally, drivers were observed not stopping or slowing down when exiting Ed Clapp's drop-off loop. Vehicles were also observed blocking the crosswalk, when preparing to turn out along 28th Street SW and when along 28th Street SW.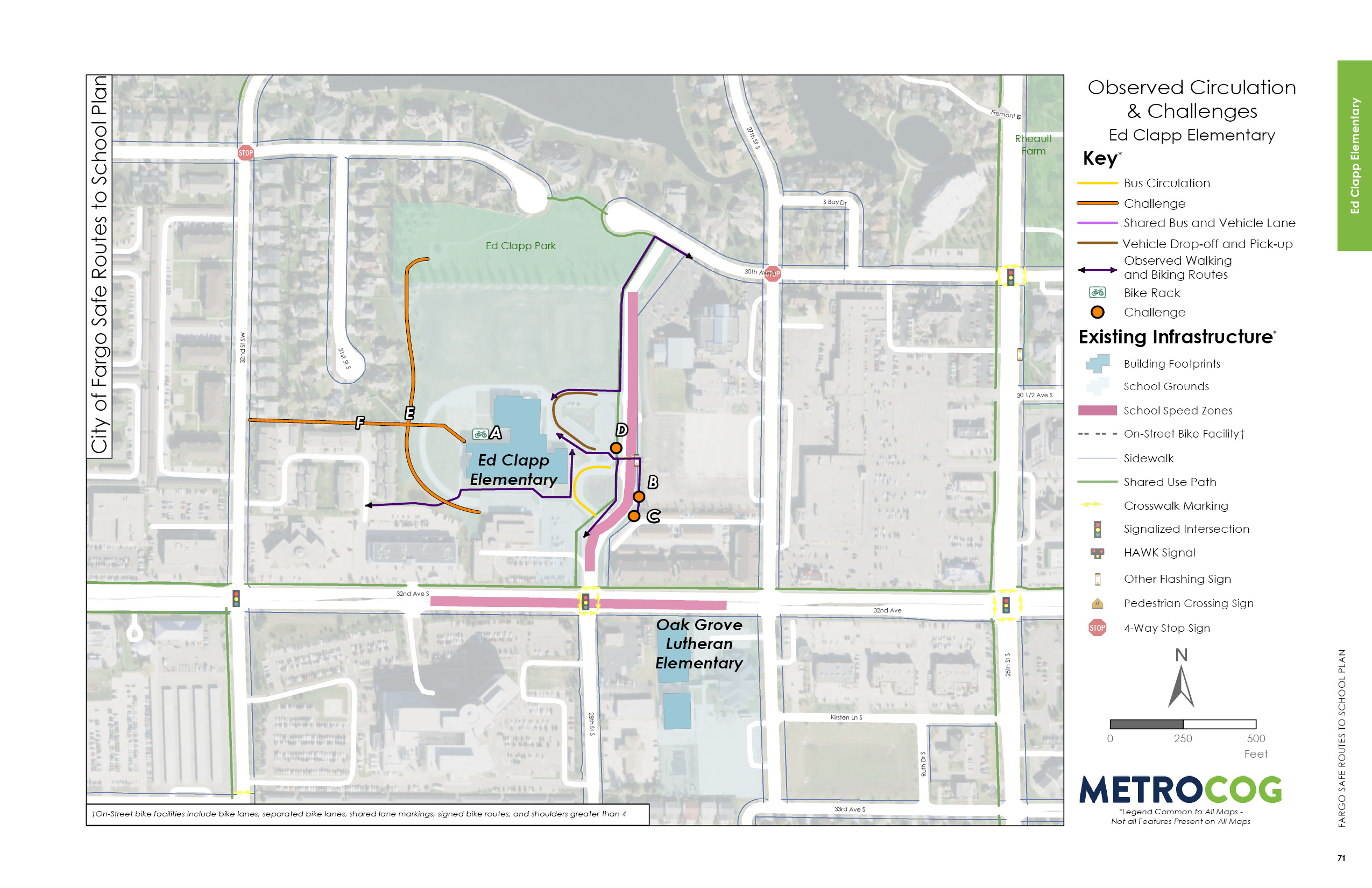 Opportunities for Improvement
Ed Clapp has several assets to safe and comfortable walking and biking to school, including a high-visibility raised crosswalk and flashing beacon directly connecting the school campus with 28th Street SW. Opportunities for improvement include improving connections to this crosswalk by enhancing the crossing of the Bethel Church parking lot driveway and providing more convenient access to the Park Place Apartments. Additionally, adding traffic control devices and signage to the exit driveway would promote higher rates of driver yielding at the crosswalk.
Longer term opportunities for improvement include making efforts to better connect residential areas to the west. There is an opportunity to create a connection directly to the west of the school to connect to 32nd Street SW This is an area currently disconnected from the campus; currently, students must take a circuitous walk south to 32nd Ave S to access the school via 28th Street SW. There is also an opportunity to further connect the campus to the north by installing a trail to Ed Clapp Park.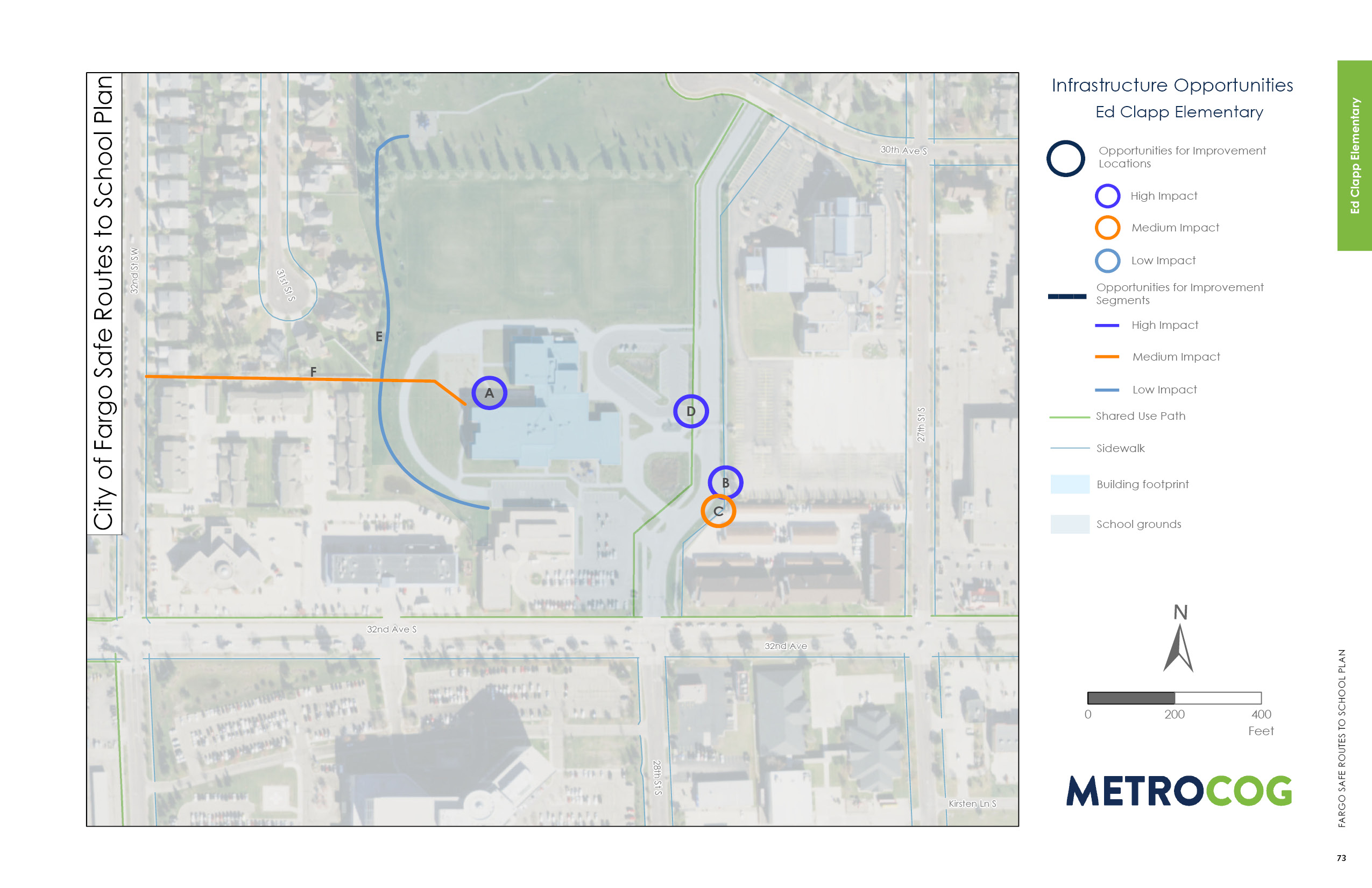 Suggested Safe Route To School
This map was designed to illustrate suggested routes to school for students based on existing infrastructure. Metro COG is not liable for anyone that uses this map.
Last Updated: February 2020