Deer Creek Elementary
---
School District
West Fargo Public School District #6
Grades
Kindergarten through 5
Average Enrollment:
233 students
Arrival is 8:00 AM
Dismissal is 2:40 PM
Existing Conditions
Deer Creek Elementary is a kindergarten through 5th grade school in the West Fargo Public School District. The school is located approximately five miles south of downtown West Fargo.
The new school finished construction in summer 2019 and was opened for the 2019-2020 school year. The school is bound by 54th Avenue S to the north, 63rd Street S to the east, residential housing to the south, and 67th Street S to the west. The roads surrounding the building are local roads with primarily localized traffic patterns. Sidewalks are located in some areas surrounding the campus, but not all, due to many of the housing developments still being constructed. A shared use path runs along the south side of campus and connects to the existing path off of 56th Avenue S and 66th Street S.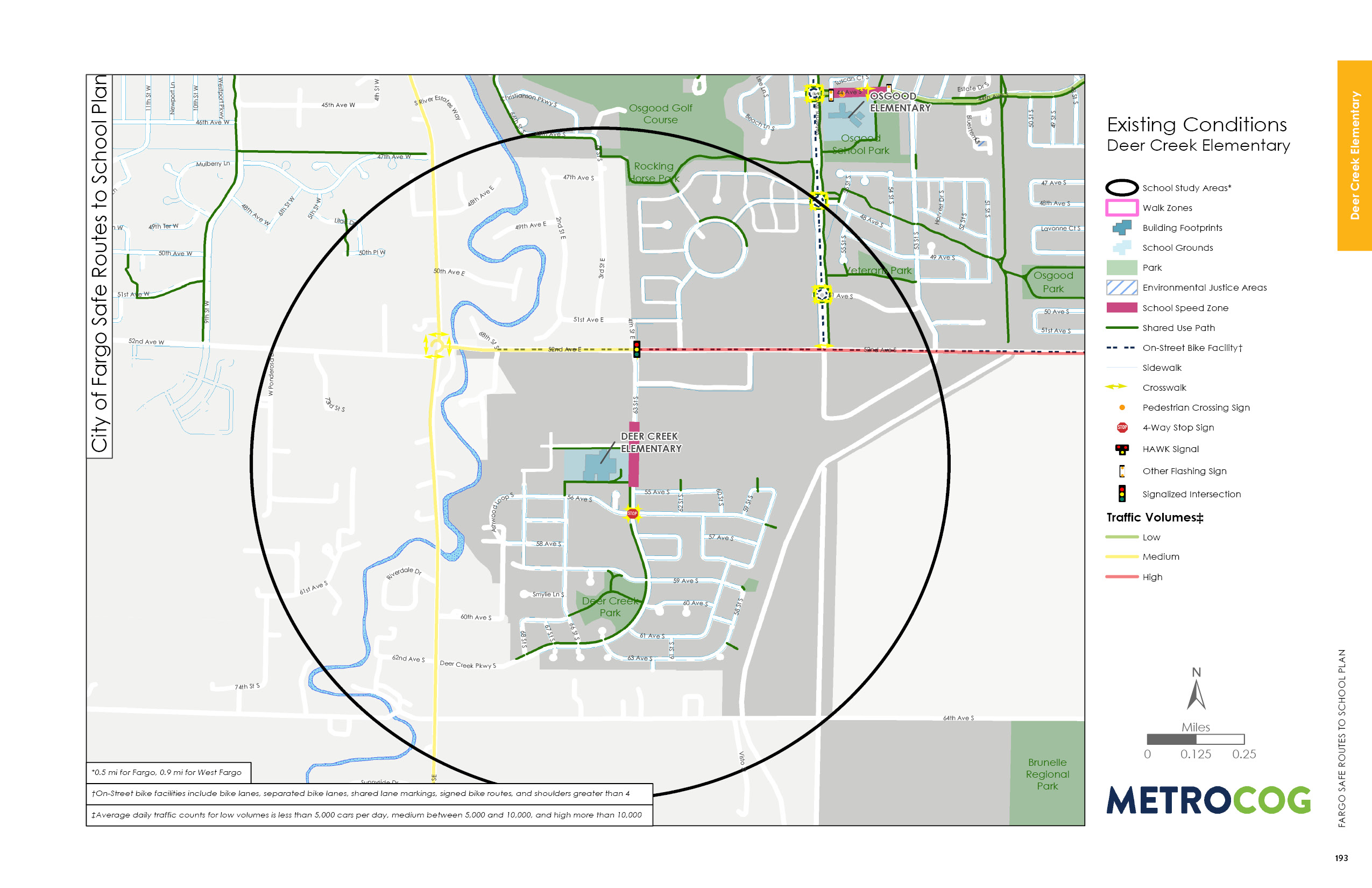 Observed Circulation & Challenges
Deer Creek Elementary is newly constructed in a new suburban style development. On the east side of the campus is 63rd Street S, a very wide two-lane roadway creating long pedestrian crossings. The intersections with 55th Avenue S and 56th Avenue S do not have curb ramps, which limits accessibility for pedestrians and bicyclists. Throughout the school site, wide driveway aprons may encourage fast turning speeds for drivers entering and exiting the parking lots.
There is more to be learned about the circulation at Deer Creek Elementary as students develop circulation patterns and the school and surrounding neighborhood becomes more established.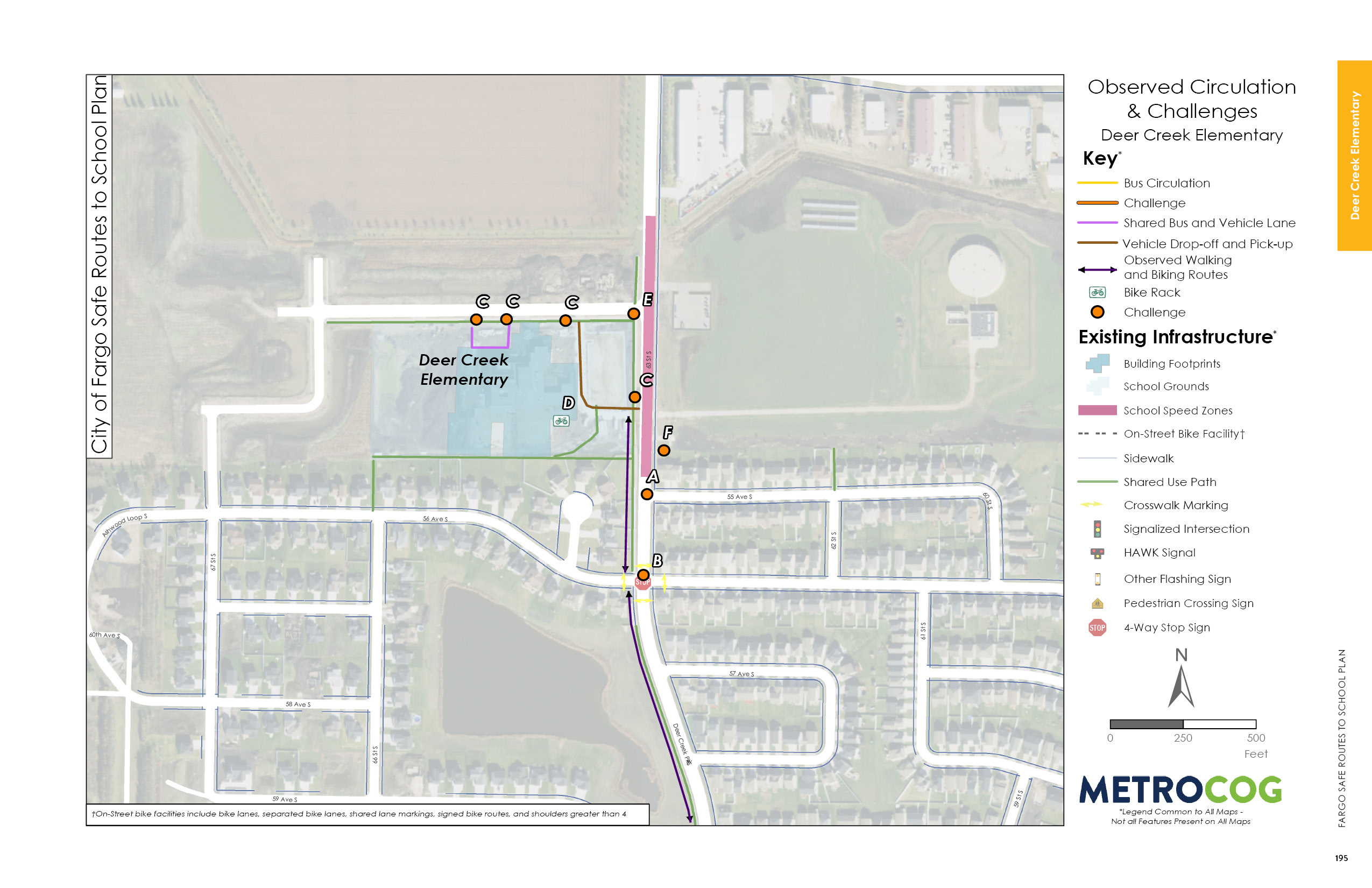 Opportunities for Improvement
With increased planned growth in this area of Fargo, it will be important to provide high quality and comfortable crossings for people walking and biking in the area. 63rd Street S is currently the main north-south roadway for vehicles traveling towards 52nd Avenue S and other major connections in the area. Because of this, the crossings of 63rd Street S nearest campus are high impact opportunities for improvement.
On campus, it will be important to limit the number and width of vehicle accesses, as well as highlight those that exist using paint and signage. These driveways have the potential of being conflict points between drivers and students walking and biking to Deer Creek.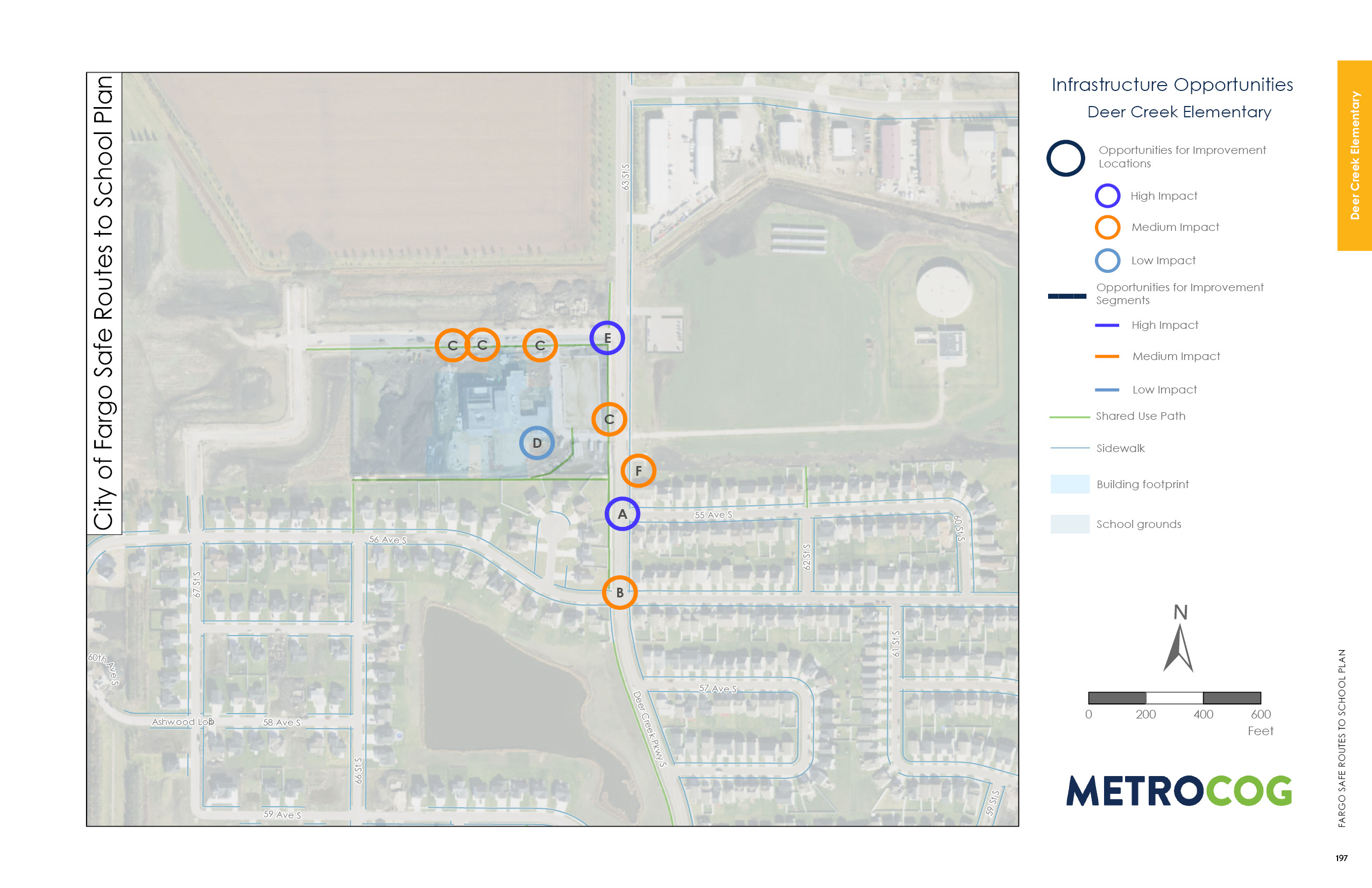 Suggested Safe Route To School
This map was designed to illustrate suggested routes to school for students based on existing infrastructure. Metro COG is not liable for anyone that uses this map.
Last Updated: February 2020