Clara Barton Elementary
---
School District
Fargo Public School District #1
Grades
3 through 5
Average Enrollment:
400 students (with Hawthorne)
Arrival: 8:10 AM
Dismissal: 2:32 PM
Existing Conditions
Clara Barton Elementary is a 3rd through 5th grade school in the Fargo Public School District. It is located approximately 1.5 miles south of Downtown Fargo in the city's Clara Barton Neighborhood. The neighborhood consists primarily of residential single-family homes. Within the Clara Barton boundaries, per capita income is slightly higher than the district average, but median household income is slightly less. Nearly one-quarter of Clara Barton's students are eligible for free and reduced lunch programs. Less
than one percent of students participate in English Language Learners programs.
The Clara Barton school facility was constructed in 1927. In 2003, Clara Barton Elementary and Hawthorne Elementary schools were joined together with kindergarten through grade 2 housed at the Hawthorne campus, while grades 3 through 5 attend Clara Barton Elementary. Prior to 2003, both schools included kindergarten through 5th grade.
The Clara Barton campus is bound by 7th Street S to the west, 14th Avenue S to the north, 6th Street S to the east, and 15th Avenue S to the south. The roads surrounding the building consist of local roads with low traffic volumes. There are sidewalks on both sides of the roadway throughout most of the walk zone. Many parents drop their students off on the east side of 6th Street S, which creates visibility challenges for students crossing the street.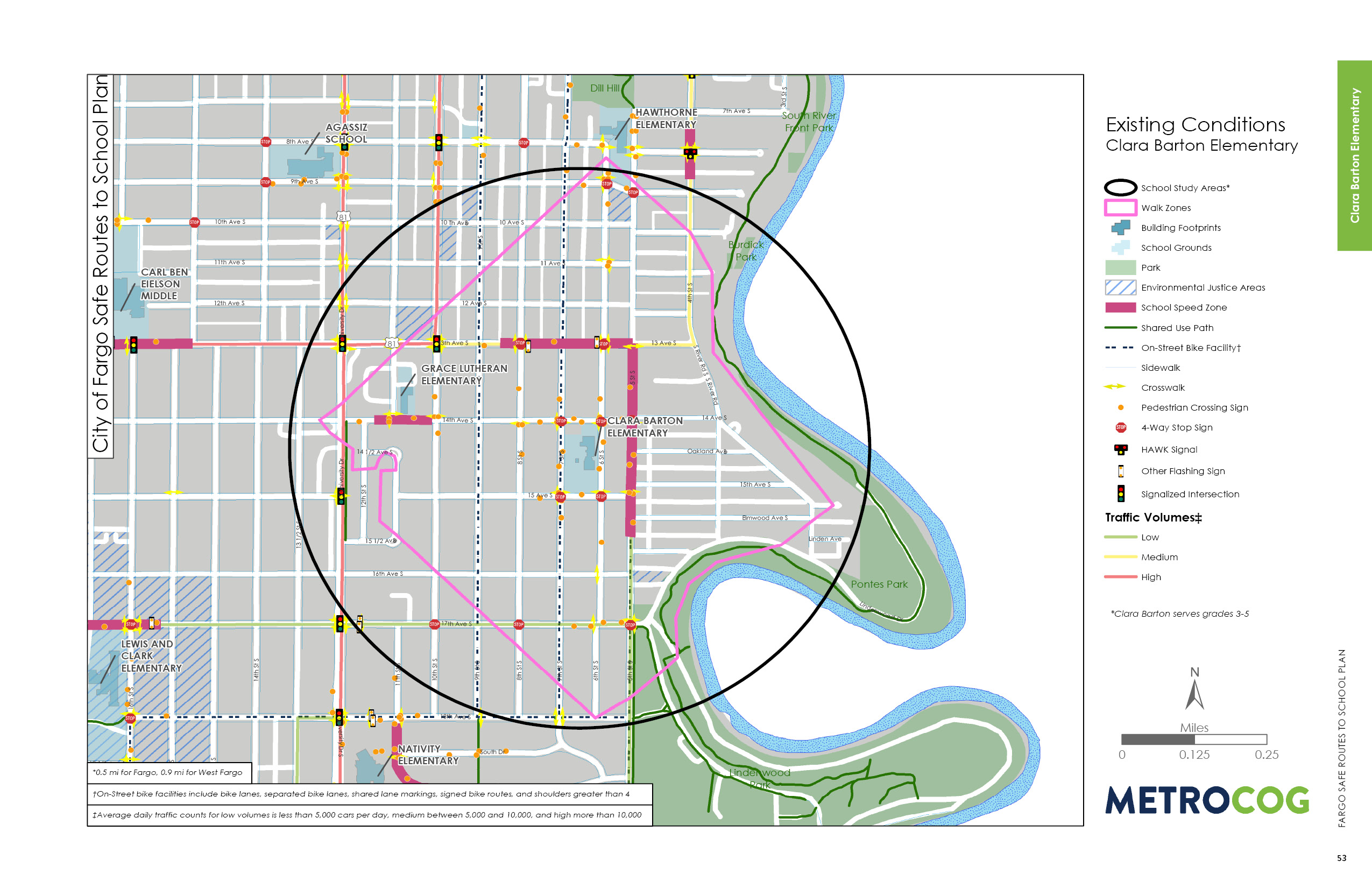 Observed Circulation & Challenges
The Clara Barton neighborhood is highly walkable and few significant barriers were identified for safe bicycle and pedestrian access to the school. The existing major corridors, like 5th Street S and 13th Avenue S have adequate infrastructure in place, including school speed zones, flashing beacons, and pedestrian crossing signs.
The 6th Street S corridor is a primary north-south circulation route around Clara Barton Elementary and was the location for many of the identified barriers. Along this route, there are many opportunities to improve the biking and walking environment and safety.
Parents dropping students off on the east side of 6th Street S create congestion. Students cross midblock across vehicle travel lanes without any pedestrian facilities. This creates potential safety challenges.
Many intersections along 6th Street S are very wide, which is uncomfortable for students to cross. The intersections at 14th Avenue S and 15th Avenue S are missing crosswalk markings. The intersection with 17th Avenue S is offset resulting in a skewed crosswalk, further increasing the crossing distance for bicyclists and pedestrians.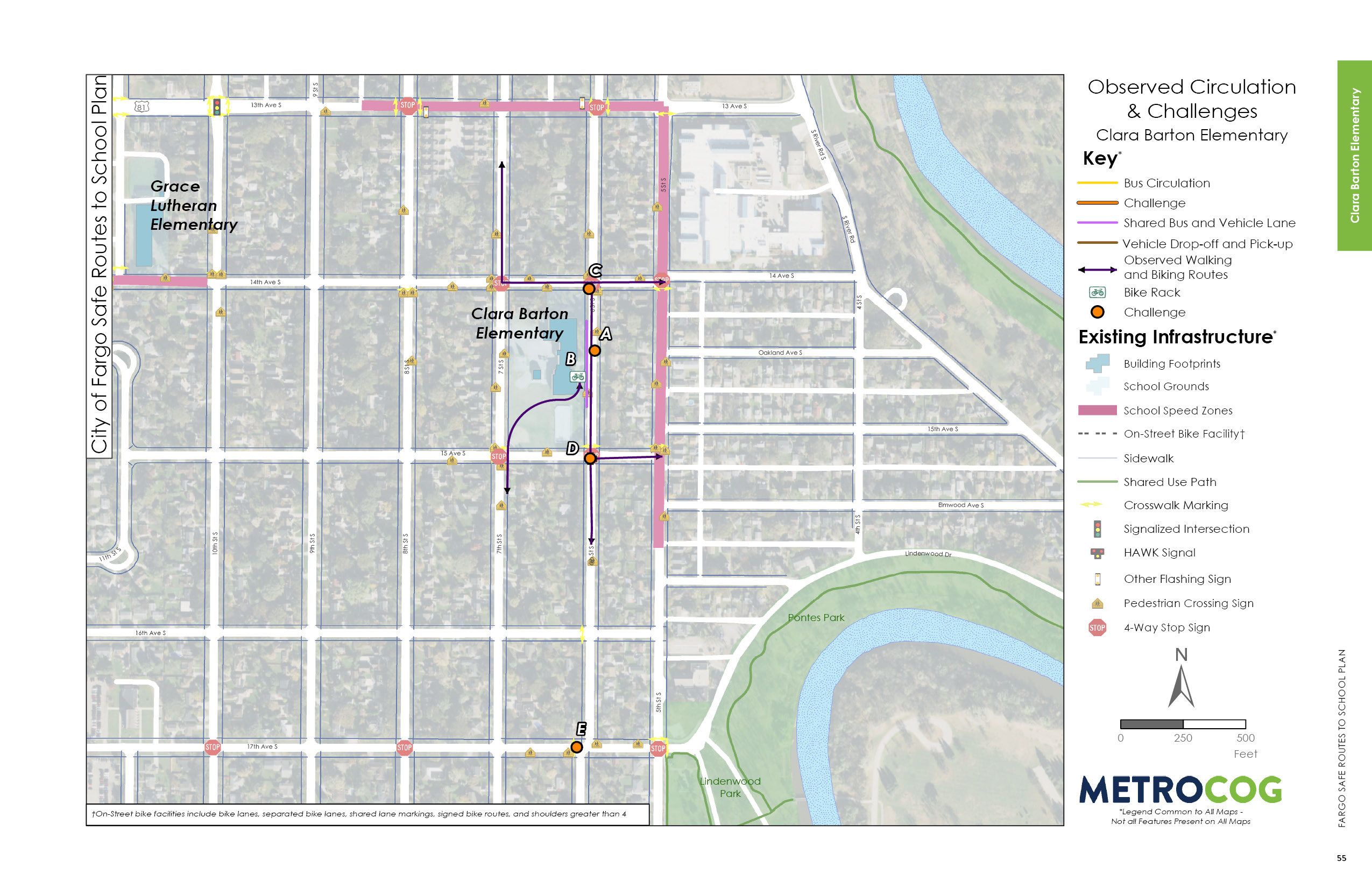 Opportunities for Improvement
Because Clara Barton Elementary is joined with Hawthorne Elementary and students are split by grades between the two campuses, enhancing the walking and biking connections to Hawthorne to the north should be considered and prioritized. At 14th Avenue S and 6th Street S, curb extensions and high visibility crosswalks would improve visibility and create a gateway to the main entrance of school (along with a similar treatment a block to the south at 15th Avenue S). In addition, a raised crosswalk midblock on 6th Street S would calm traffic traveling past the school and provide a more visible crossing for students being dropped off at the main entrance on 6th Street S.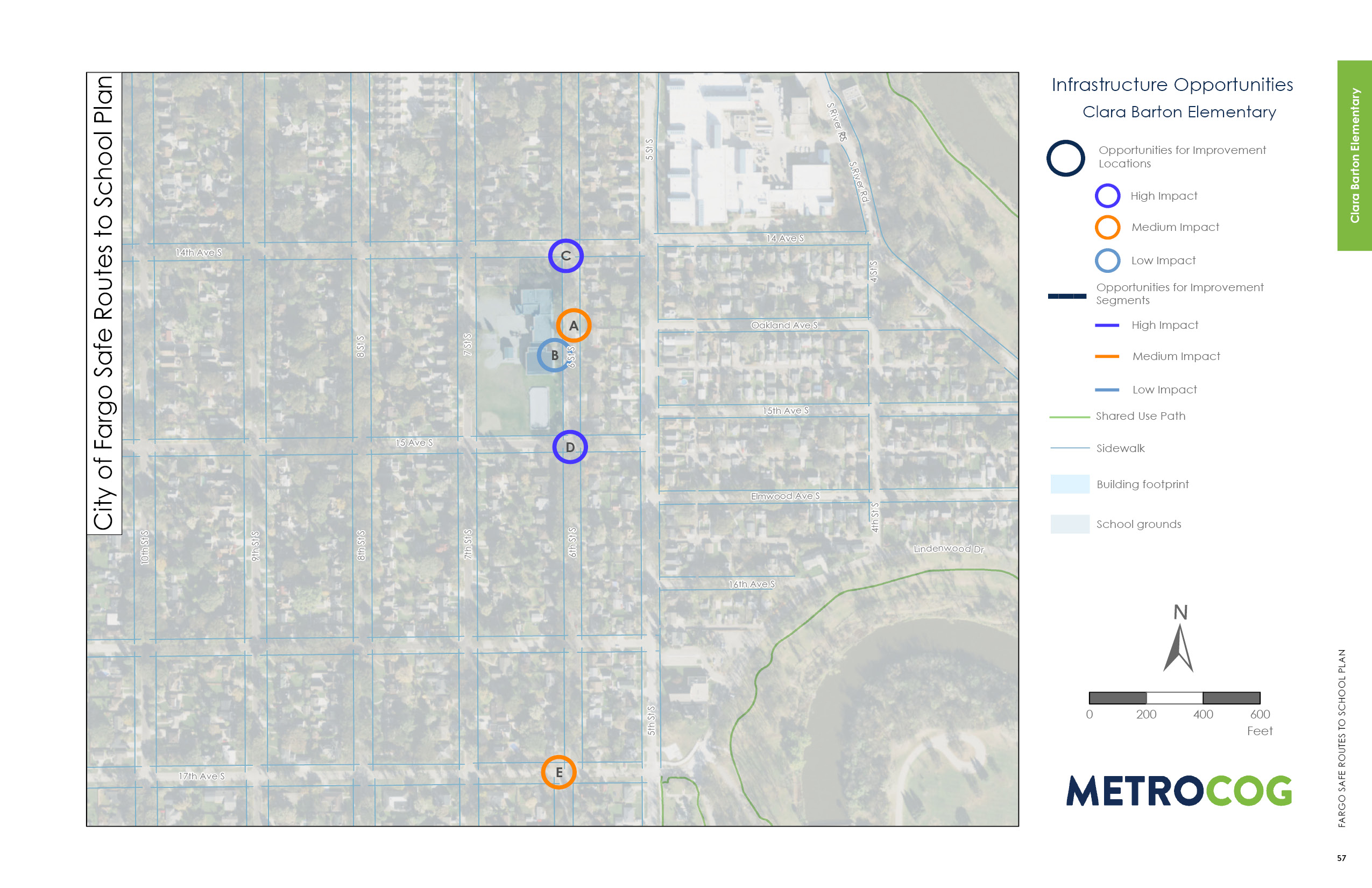 Suggested Safe Route To School
This map was designed to illustrate suggested routes to school for students based on existing infrastructure. Metro COG is not liable for anyone that uses this map.
Last Updated: February 2020