Centennial Elementary
---
School District
Fargo Public School District #1
Grades
Kindergarten through 5
Average Enrollment:
572 students
Arrival is 8:20 AM
Dismissal is 2:42 PM
Existing Conditions
Centennial Elementary is a kindergarten through 5th grade school in the Fargo Public School District. It is located approximately 4.5 miles southeast of Downtown Fargo in the city's Centennial Neighborhood. The neighborhood consists primarily of residential single-family homes. Within the Centennial boundaries, per capita income and household income are much higher than the district average. Seventeen percent of Centennial students are eligible for free and reduced lunch programs. Around five percent of students participate in English Language Learners programs.
The Centennial school facility was constructed in 1989. The campus is bound by Copperfield Court to the west, 40th Avenue S to the north, 25th Street S to the east, and Oak Creek Drive SW to the south. There are school speed zones designated along 40th Avenue S from west of 28th Street S to east of 25th Street S and along 25th Street S from north of 40th Avenue S to 44th Avenue S. Both 25th Street S and 40th Avenue S have high traffic volumes with high observed traffic speeds. Both roadways are significant barriers to walking and biking to Centennial Elementary. Currently, Fargo Public School District considers these roadways as barriers to walking and biking to school, so all students who live north and south of these roadways are bussed. There is a HAWK signal at the 40th Avenue S and 28th Street S intersection to facilitate safe pedestrian crossings of 40th Avenue S. At the 40th Avenue S and 25th Street S intersection, poor driver yielding behavior creates unsafe crossings. Long pedestrian wait times also encourage poor pedestrian and cyclists behavior.
On campus, there are two comb style racks located near the front door of the school. The comb style rack does not allow for locking of the frame and can result in wheel damage. The school also uses an adult crossing guard during drop-off and pick-up in the parking lot.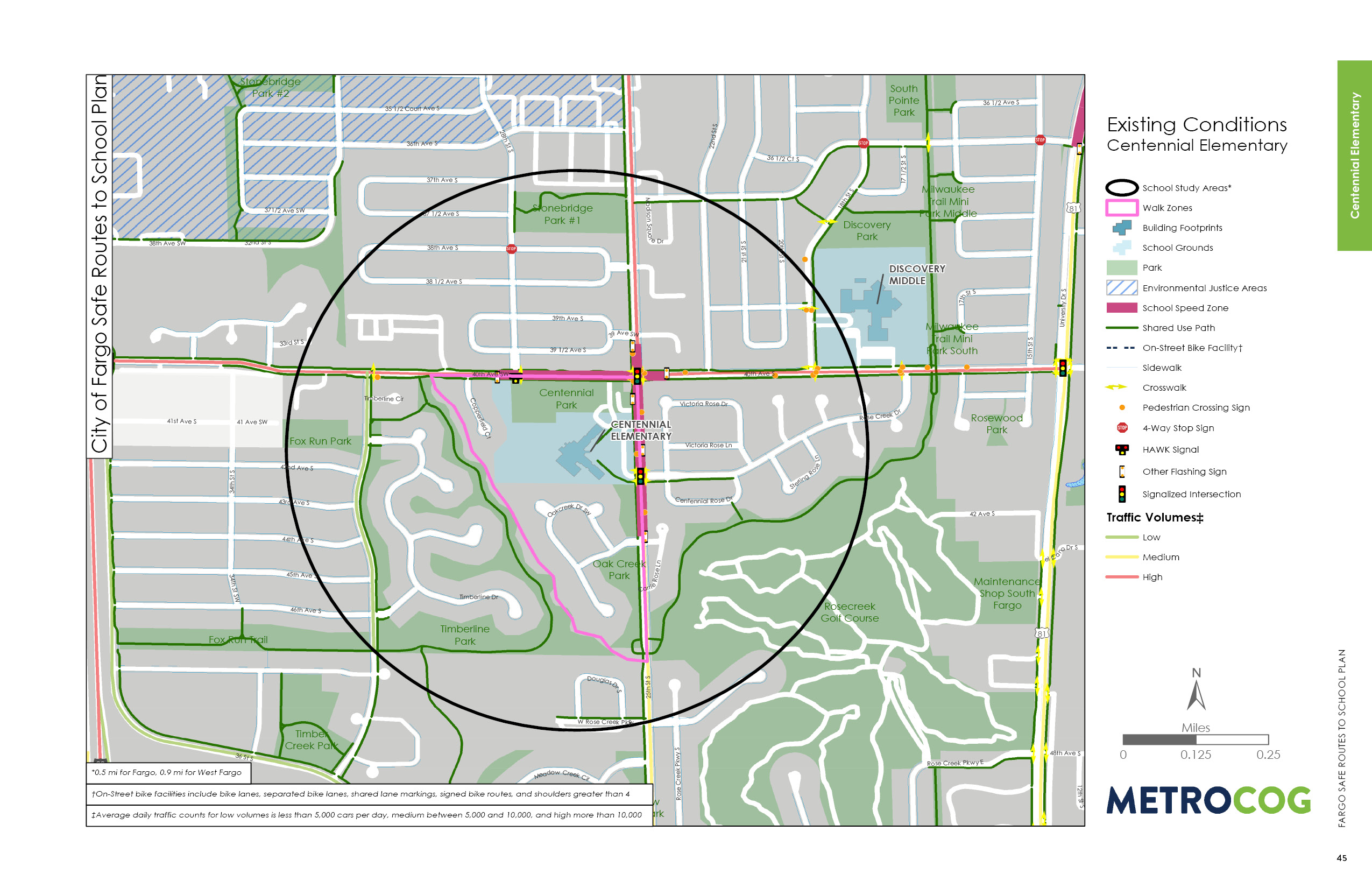 Observed Circulation & Challenges
The intersection of 40th Avenue S and 25th Street S (both minor arterial roadways) is adjacent to the Centennial Elementary campus. This intersection was observed with poor driver yielding behavior and long delays for pedestrians and cyclists. The 25th Street S and Rose Creek Drive intersection also presents a crossing challenge, where pedestrians and cyclists have long delays waiting for a walk signal. Neither intersection has a leading pedestrian interval, which could improve pedestrian visibility and safety.
The 25th Street S entrance to the drop-off loop features a long pedestrian crossing with a double right turn for southbound 25th Street S traffic. This is a potential safety challenge. Drivers were also observed speeding in the 25th Street S speed zone during school arrival and dismissal observations.
There are multiple comb style bike racks at Centennial Elementary that are well used and placed at the front of the building, encouraging use.
West of the campus is a drain that creates a barrier to the housing developments west of the drain from the school. There is also a shared-use path that runs along the west side of the drain. A connection over the drain could make walking and biking easier for more students and provide an alternative to busing for these students.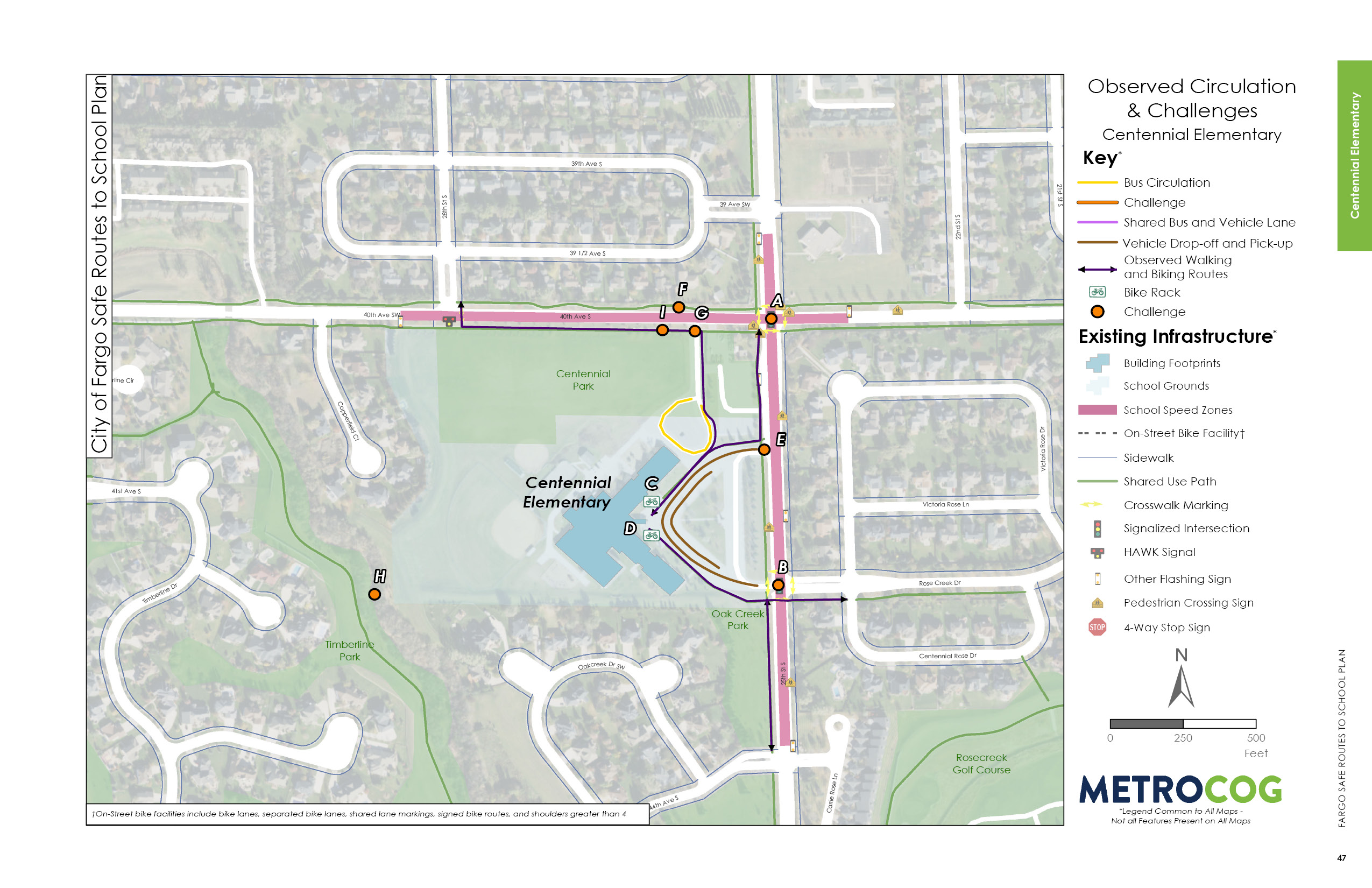 Opportunities for Improvement
Since both 40th Avenue S and 25th Street S are minor arterial roadways and present barriers for safe and comfortable walking and biking to school, the majority of the opportunities for improvement relate to these two streets. At the intersections of 40th Avenue S and 25th Street S and 25th Street S and Rose Creek Drive, there is an opportunity to utilize the existing traffic signals to incorporate leading pedestrian intervals (LPI), which can increase the visibility of people walking through this intersection and improve driver yielding rates. Installing a NO RIGHT TURN ON RED sign at 25th Street S and Rose Creek Drive is recommended in combination with the installation of the LPI. Other opportunities for improvement include
providing consistency with the application of school speed zones, including posting signs on both sides of the street and including flashing lights indicating when the school speed zone is in effect. Where possible, lanes should be reduced along 25th Street S to reduce multiple-threat collision opportunities.
On campus, there are opportunities to improve connections from the sidewalk to the school entrance, including marking high visibility crosswalks at the school driveways.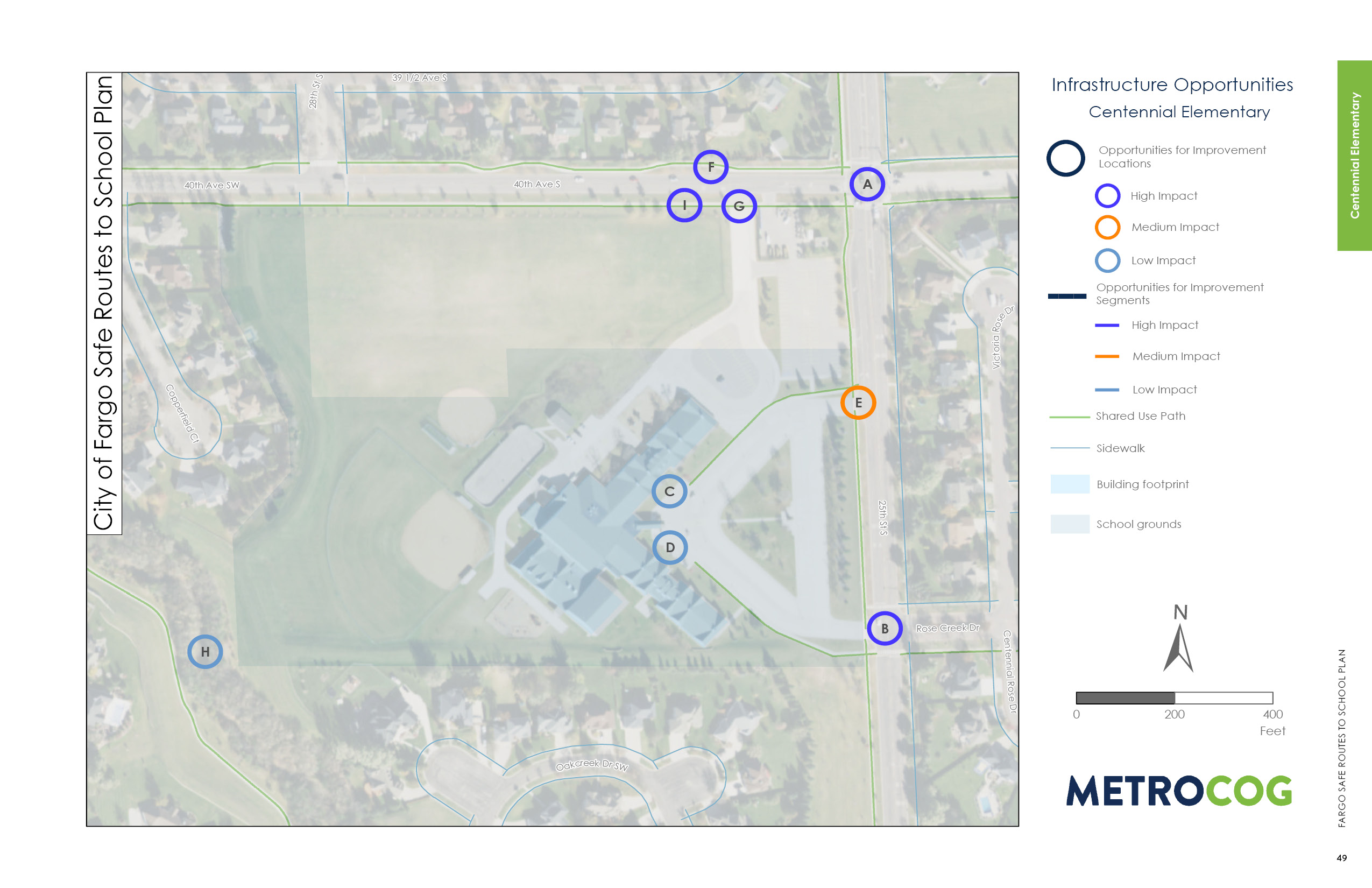 Suggested Safe Route To School
This map was designed to illustrate suggested routes to school for students based on existing infrastructure. Metro COG is not liable for anyone that uses this map.
Last Updated: February 2020