Bennett Elementary
---
School District
Fargo Public School District #1
Grades
Kindergarten through 5
Average Enrollment:
536 students
Arrival is 8:20 AM
Dismissal is 2:42 PM
Existing Conditions
Bennett Elementary is a kindergarten through 5th grade school in the Fargo Public School District. It is located approximately six miles south of Downtown Fargo in the city's Bennett neighborhood. The neighborhood consists primarily of residential single-family homes. Within the Bennett boundaries, per capita income and household income are much higher than the district average. Seventeen percent of Bennett students are eligible for free and reduced lunch programs. Around three percent of students participate in English Language Learners programs.
The Bennett school facility was constructed in 2000. The campus is bound by 21st Street S to the west, 58th Avenue S to the north, approximately 16th Street S and Sundance Square S to the east, and 60th Avenue S to the south. The surrounding roads are generally low traffic roadways serving the residential developments. However, some speeding was observed during the field review. School speed zones are designated along 58th Avenue S from Bishops Boulevard / 21st Street S to east of Bennett Park, and along 21st Street S from 58th Avenue S to 60th Avenue S. Within the walk zone, there are some sidewalk gaps, mostly associated with undeveloped parcels.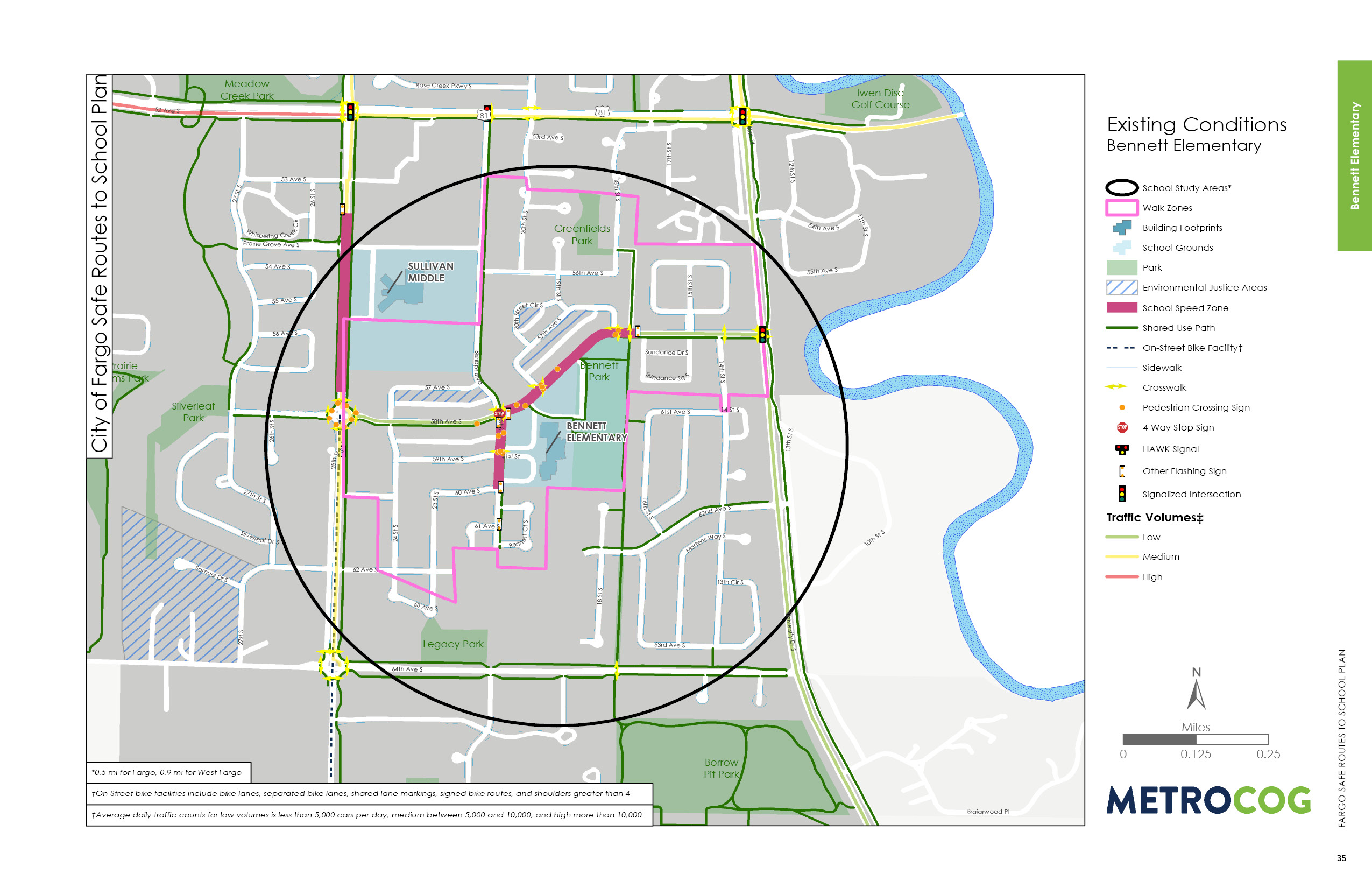 Observed Circulation & Challenges
58th Avenue S, north of the campus, is perceived by caregivers as a barrier to walking and biking. There are sidewalk gaps, observed high speed traffic, and poor yielding compliance. The field review indicated the intersection with 20th Street S has low pedestrian visibility. Drivers along the corridor do not expect
to see pedestrians crossing at this location.
64th Avenue S is outside of the school's current walk zone but was identified as a potential barrier due to the wide lanes and observed high speed traffic.
The shared use path along the eastern edge of the property is a primary north-south circulation route for students walking and biking to school. This trail crosses 58th Avenue S and 62nd Avenue S. There is a flashing beacon at the 58th Avenue S crossing and a bicycle crossing sign at the 62nd Avenue S crossing. During the field review, it was observed that drivers were not anticipating trail users to cross at these locations.
On the west side of the property, incomplete sidewalk networks encourage students to cut across the green space to get to the building.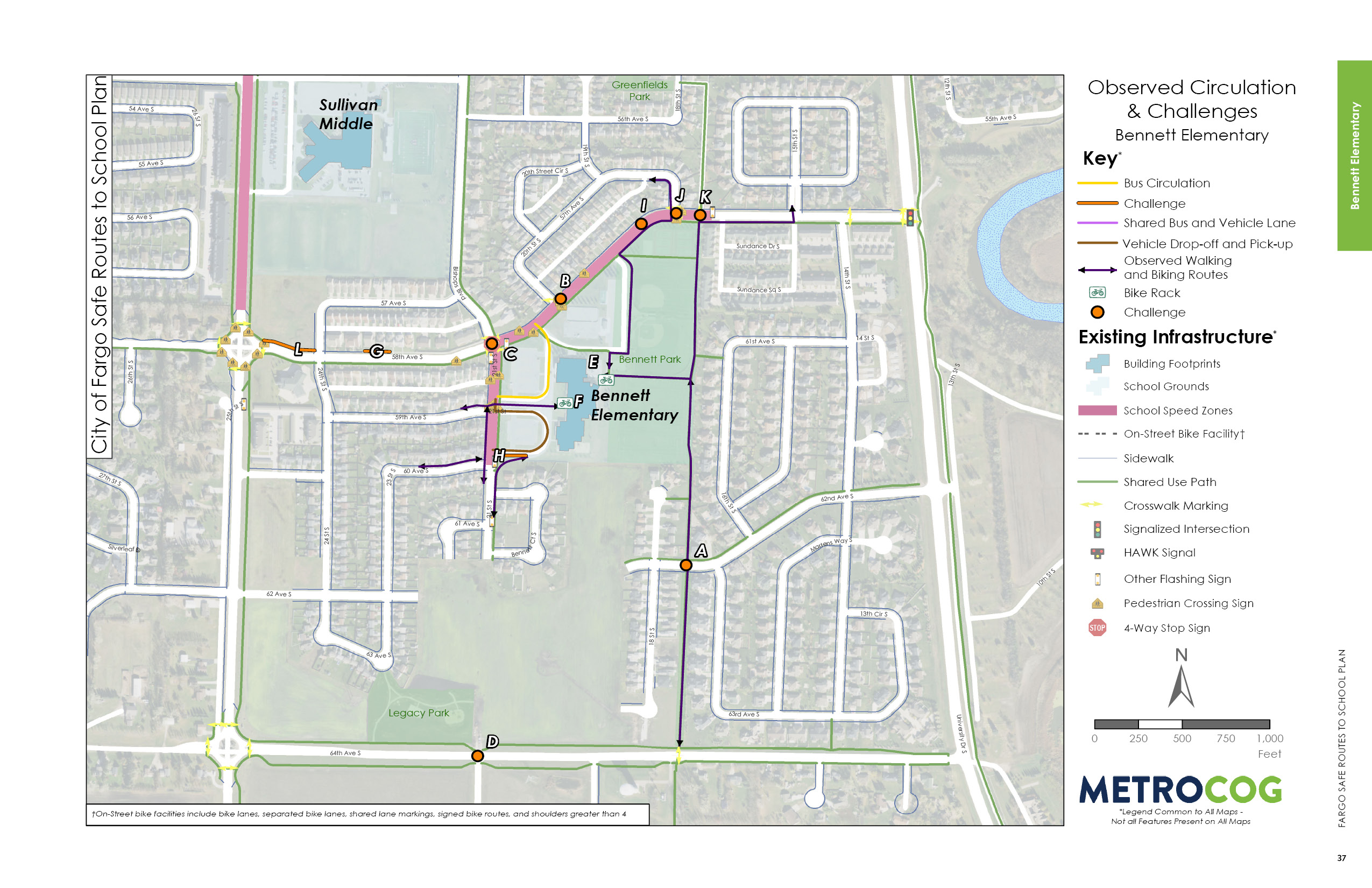 Opportunities for Improvement
Due to the identified challenges crossing 58th Avenue S, high impact opportunities for improvement were focused along and across this street in order to make crossings more comfortable for students and families walking to Bennett Elementary. By improving visibility, shortening crossing distances and making it clearer and more obvious where drivers should expect to see people crossing, challenges will likely decrease along 58th Avenue S.
As this area of Fargo grows to the south of school, it will be important to provide comfortable and low stress connections for students and families. In particular, the crossing of 64th Avenue S at 21st Street S should be considered for improvement as more families begin living south of school.
Sidewalks should be installed to connect the existing sidewalk on campus to 21st Street S because many students use and will use 21st Street S to access school.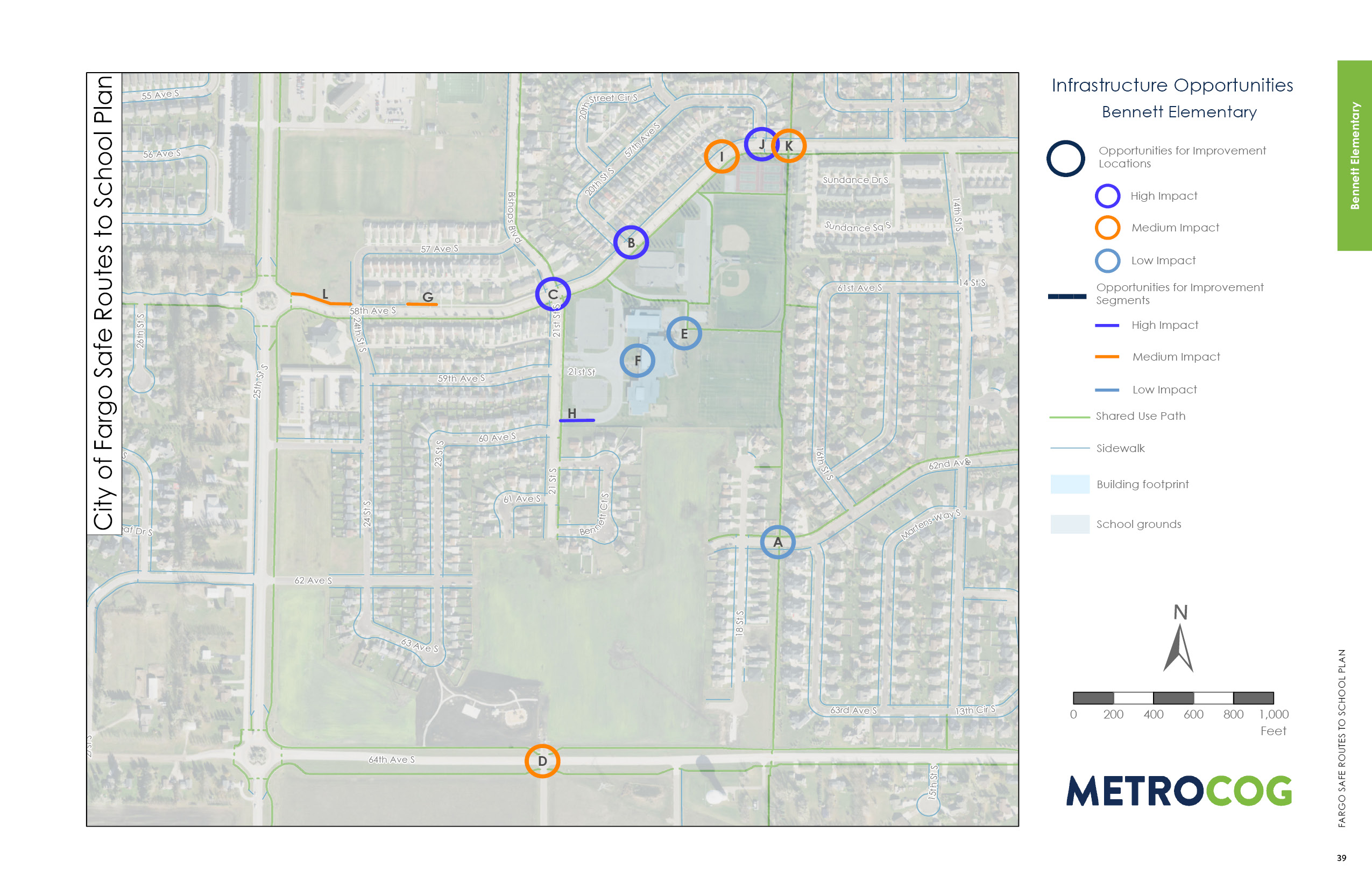 Suggested Safe Route To School
This map was designed to illustrate suggested routes to school for students based on existing infrastructure. Metro COG is not liable for anyone that uses this map.
Last Updated: February 2020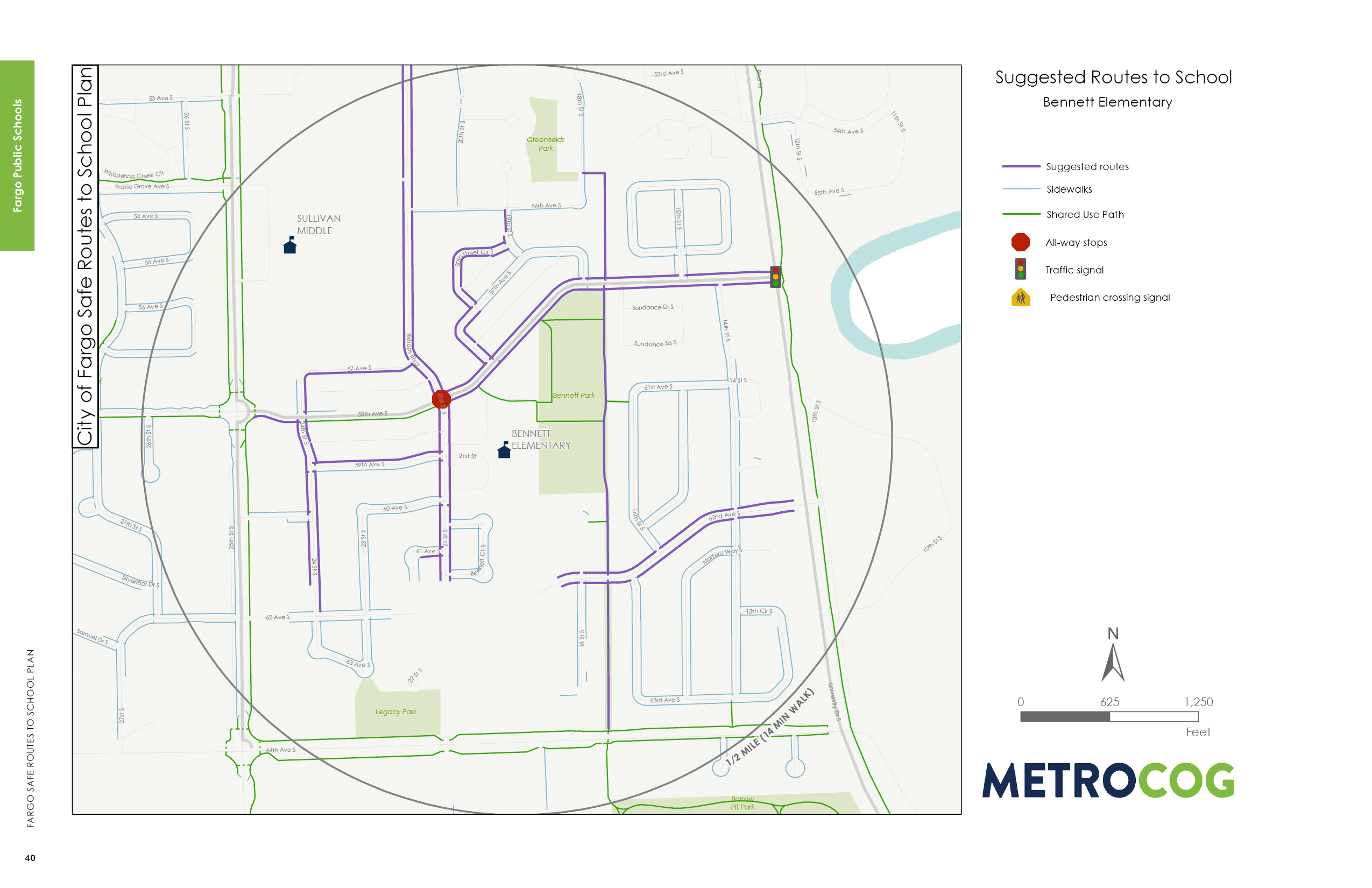 ---