Agassiz
---
School District
Fargo Public School District #1
Grades
This school provides a variety of programs including:
Alternative High School programs
Fargo Adult Learning Center
Early Childhood Special Education
Middle School Alternative Education Day Program (EDP)
Project InVEST (post high school, life skill, transition SpEd program)
EvenStart pre-school
Average Enrollment:
Varies by program
Arrival varies by program, students arriving between 8-9 AM for morning classes and around 11:30 AM for afternoon classes.
Dismissal varies by program
Students depart between 2:30 PM and 3:45 PM.
Existing Conditions
The Agassiz School serves a range of students through its special services and programs, such as early childhood special education classes. Additionally, the Agassiz building is home to the Woodrow Wilson Alternative High School, which relocated to the site in 2012.
The Agassiz School is located approximately one mile southwest of Downtown Fargo in the city's Carl Ben Eielson neighborhood. The neighborhood consists primarily of residential single-family homes. The campus is bound by 14th Street S to the west, 8th Avenue S to the north, University Drive to the east, and 9th Avenue S to the south. University Drive is a high traffic volume arterial with observed traffic speeds exceeding the posted speed limit of 30 mph. This creates a barrier for students walking and biking. The University Drive and 8th Avenue S intersection is controlled with a traffic signal providing a protected crossing for pedestrians who need to cross University Drive east-west. There are sidewalks throughout most of the study area.
On campus, the bike rack is placed on the west side of the school near a trash dumpster with low visibility from the street. It is a comb style rack that does not allow for locking of the frame and can result in wheel damage.
Because of the unique citywide and adult programming at Agassiz, many students travel to and from school using Fargo MATBUS. Routes 14, 15 and 18. Routes 15 and 18 stop immediately outside Agassiz on the northwest corner of University Dr and 8th Avenue S. Route 14 stops south of school at the northwest and southeast corners of University Dr and 14th Avenue S.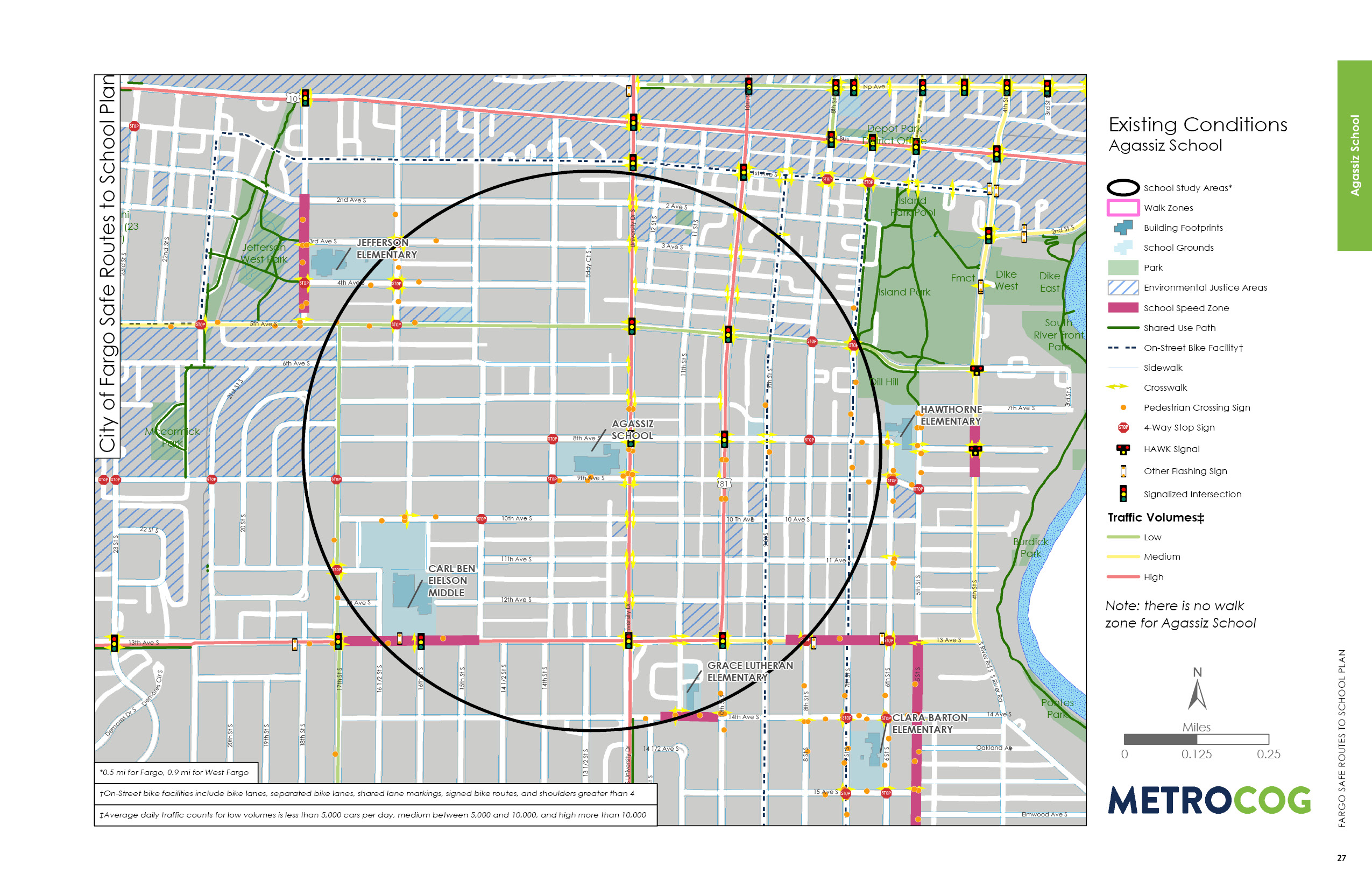 Observed Circulation & Challenges
University Drive is a major barrier for students walking and biking to Agassiz School. The 8th Avenue S and 9th Avenue S intersections along University Drive have wide curb radii, which encourages high vehicle turning speeds and decreases pedestrian crossing safety and comfort. These crossings are long and the pavement markings are deteriorating. The 8th Avenue S intersection is controlled with a traffic signal, but it does not include a leading pedestrian interval.
The parking lot on the north side of the campus often includes vehicles encroaching on the sidewalk space. Vehicles parking in stalls immediately adjacent to the driveway access obscure visibility of pedestrians crossing the driveway. Students traveling from the east from their home or from the MATBUS stop enter through the north side of the building and must walk through the parking lot to reach the door. The parking lot lacks dedicated pedestrian circulation space. Instead, people walking must hug the side of the building through the parking lot. Because of shadows and other facility and building obstructions, people walking through the parking lot are difficult to see by drivers.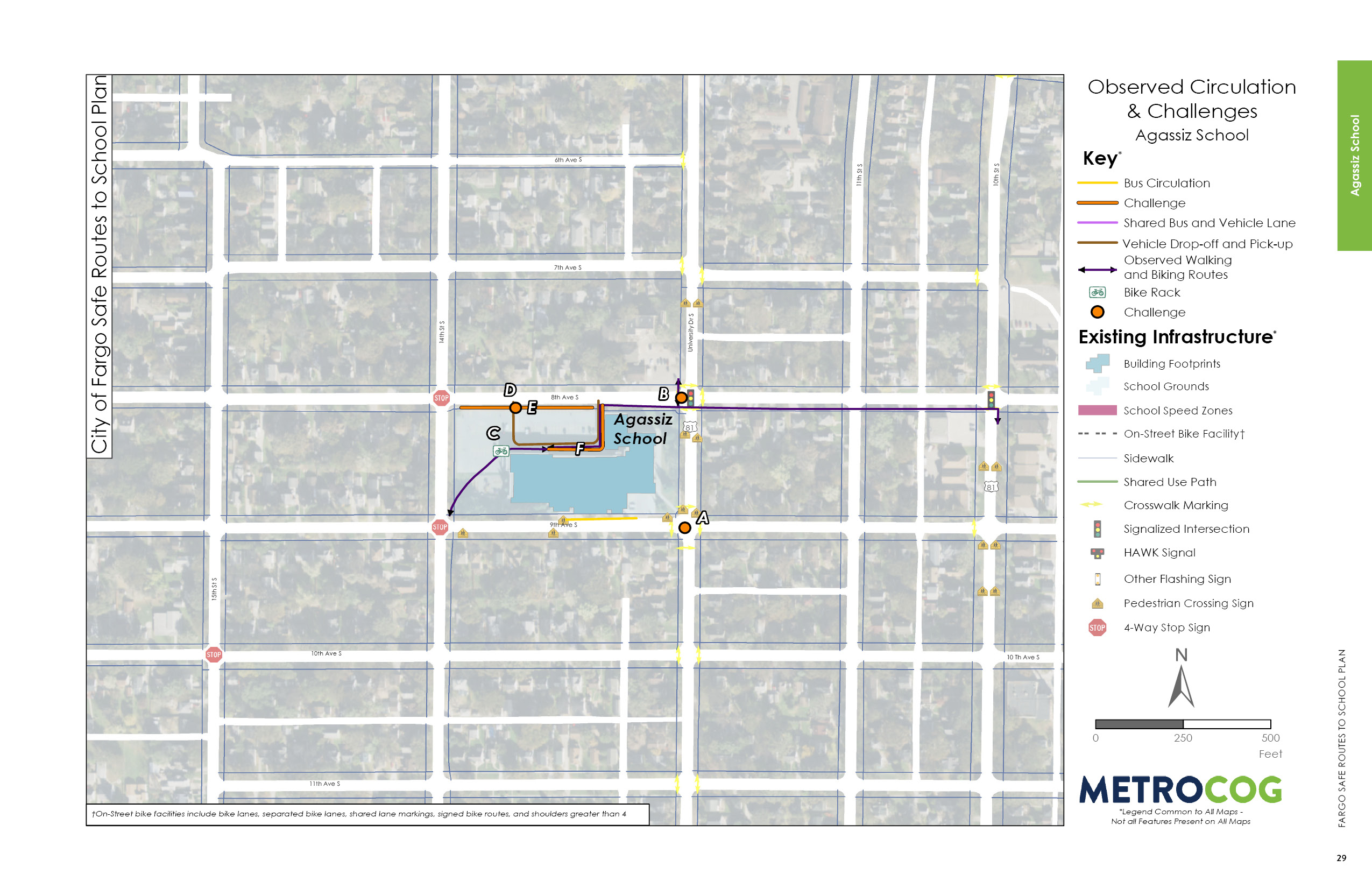 Opportunities for Improvement
Opportunities for improvement to improve conditions for people walking and biking to campus are primarily focused on improving the crossings across University Drive S. Wide curb radii encourage higher speeds for drivers turning on or off of University Drive S. These higher turning speeds make crossing at 8th Avenue S and 9th Avenue S a challenge for people walking and biking, especially those traveling to nearby bus routes. At the signalized intersection of 8th Avenue S and University Drive S, a leading pedestrian interval could improve visibility of people walking east and west.
Once on campus, students walking must reach Door 1 through the north parking lot. A separated and raised curb and sidewalk space through the parking lot would provide a more comfortable route. In addition, removing parking stalls adjacent to the parking lot driveways would improve visibility of students
walking on the south side of 8th Avenue S. Finally, installing parking stops in stalls along the same sidewalk would limit vehicles encroaching on the pedestrian space.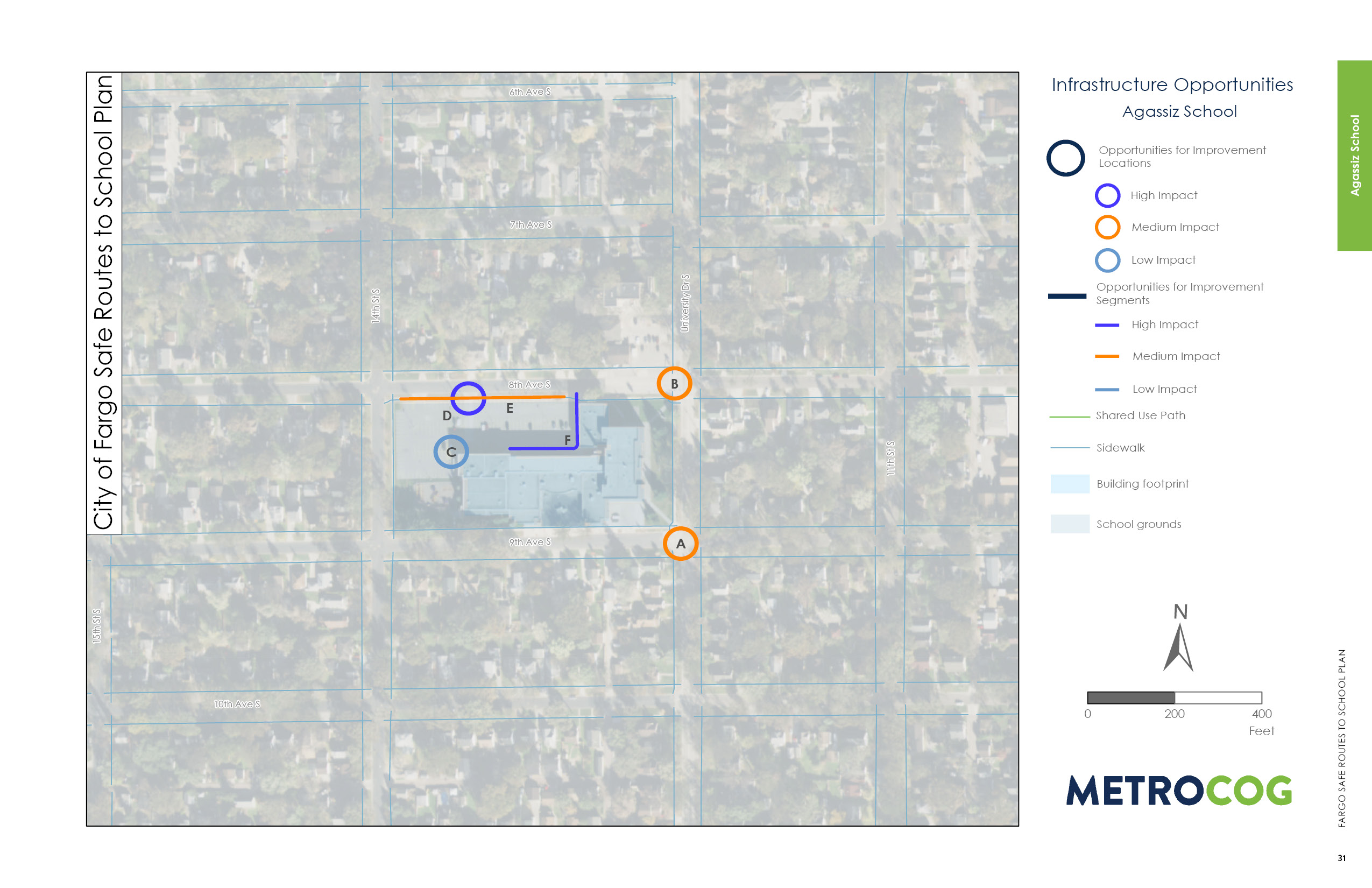 Suggested Safe Route To School
This map was designed to illustrate suggested routes to school for students based on existing infrastructure. Metro COG is not liable for anyone that uses this map.
Last Updated: February 2020