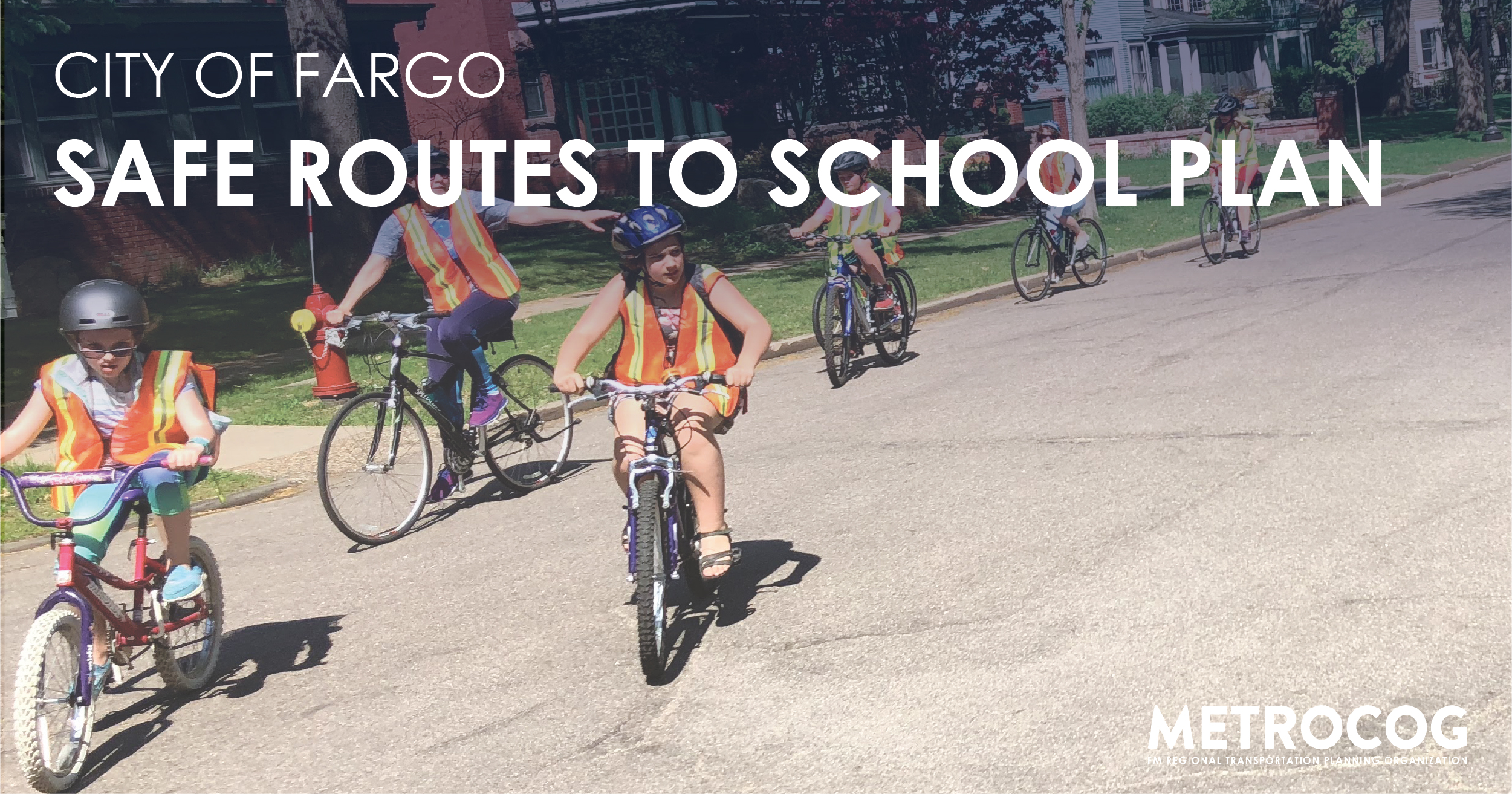 Fargo Safe Routes to School Plan
Project Update – School site visits are DONE!
The Fargo SRTS project is well underway. All 31 school site assessments have been completed. Public input meetings have occurred and the consultants are reviewing the findings.
The next step will be to hold a Study Review Committee Meeting in July to discuss the findings and potential improvements, policy changes/adoptions, and educational opportunties available across the City of Fargo and at each school.
Keep visiting this website to stay updated on the project's progress! In the meantime, feel free to reach out to project staff at Metro COG with any additional questions or comments.
Dan Farnsworth at Metro COG
701-532-5106 or farnsworth@fmmetrocog.org
Anna Pierce at Metro COG
701-532-5102 pierce@fmmetrocog.org
---
Project Background and Objective
The last update to the Fargo Safe Routes to School Plan was adopted in December 2009. After nearly a decade, the Fargo Safe Routes to School Plan needs to be revamped. This project will update the current plan by including newly constructed schools and identifying areas of improvement surrounding each school throughout the City of Fargo. The Plan will also develop guidance on new installations, improvements, and preferred access routes to each school, as well as identify areas of concern.

The objectives of this project are to:
Work with the City of Fargo, Fargo Public Schools, West Fargo Public Schools, and the private schools to gather public input from staff, parents, and students that will assist the team in identifying bicyclist and pedestrian access challenges and opportunities surrounding each of the 30 school locations within the city limits of the City of Fargo,
Identify existing and preferred circulation routes for students surrounding each school,
Evaluate the safety of the bicyclist and pedestrian access routes to each school,
Identify and prioritize strategies and recommendations to improve the safety of bicyclist and pedestrian circulation and access routes,
Prepare a Safe Routes to School Plan document with graphics that provide information on project background, existing conditions, preferred circulation routes, and identifies prioritized areas of improvement at each school, and
Update the Safe Routes to School maps for each elementary and middle school within the city limits of the City of Fargo.
---
Project Timeline

---