GREATER NORTHWEST PASSENGER RAIL COALITION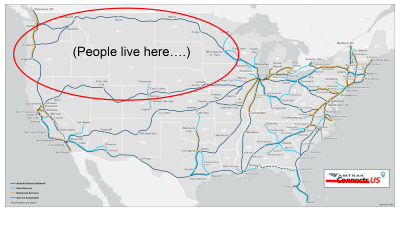 FOR IMMEDIATE RELEASE
GREATER NORTHWEST PASSENGER RAIL COALITION
The Fargo-Moorhead Metropolitan Council of Governments (Metro COG) is pleased to announce that members from the Greater Northwest Passenger Rail Coalition will be in the Fargo-Moorhead area on December 10th to talk about passenger rail expansion throughout the region and what you can do to help.
The group is calling on the US Secretary of Transportation and Federal Railroad Administration to create a formal Greater Northwest Passenger Rail Working Group, modeled on the successful Gulf Coast Working Group, to look at restored and new passenger rail service throughout our region, including North Dakota & South Dakota, and identify the steps needed to implement them. A key focus of the group is the North Coast Hiawatha route through Fargo-Moorhead, Bismarck-Mandan, and Southern Montana—connecting Chicago to the West Coast.
Rural America remains underserved by long-distance intercity passenger rail options. In parts of the Greater Northwest Region, defined as Washington, Oregon, Idaho, Utah, Colorado, Wyoming, Montana, North Dakota, South Dakota, and portions of Minnesota and Wisconsin, passenger rail can offer local, state, and regional service capabilities that other modes of transportation cannot - especially during periods of inclement weather.
Coalition partners include: The Big Sky Passenger Rail Authority (MT), All Aboard Minnesota, The City of Boise Idaho, COMPASS (ID), Utah Rail Passengers Association, AORTA (OR), All Aboard Washington, All Aboard Wisconsin, Transportation for America and the Rail Passengers Association.
Please join us at 12:00 p.m. (Central) in the City Commission Chambers at Fargo City Hall, 225 4th Street N, Fargo, ND or virtually (information below) on Friday December 10th to learn more about this effort, the positive economic impacts of passenger rail, and what you can do to help!
For further information, please contact Dan Bilka, Greater Northwest Passenger Rail Coalition Coordinator, at (605) 480-2532 or dan@allaboardnw.org.
###
Metro COG is committed to ensuring all individuals, regardless of race, color, sex, age, national origin, disability/handicap, sexual orientation, and/or income status have access to Metro COG's programs and services. Meeting facilities will be accessible to mobility impaired individuals. Metro COG will make a good faith effort to accommodate requests for translation services for meeting proceedings and related materials. Please contact Savanna Leach, Metro COG Office Manager, at 701-532-5100 at least five days in advance of the meeting if any special accommodations are required for any member of the public to be able to participate in the meeting.