Mapleton Comprehensive & Transportation Plan
NEW! - Kick-Off Open House Meeting on January 31!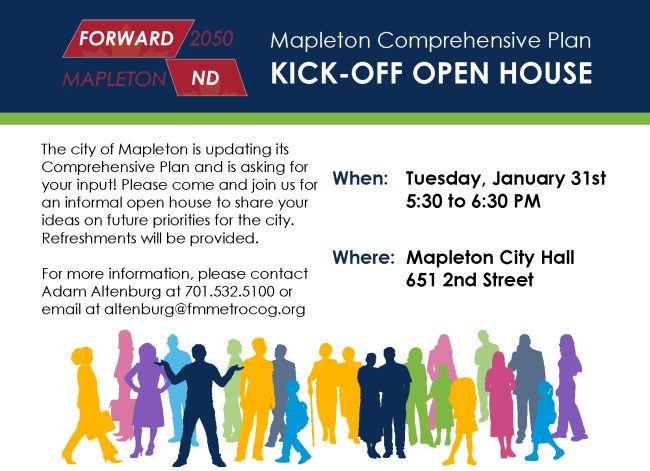 Community Input Survey Now Closed
Thank you to everyone who participated in the community input survey! Your feedback will help us better understand your priorities and will help inform recommendations and strategies for the community in the coming years!
Project Background
The City of Mapleton, with a population of 1,320, has become the fastest-growing city in the Fargo-Moorhead metropolitan area in recent years. With several new subdivisions, the recent construction of a new $7.3 million school, and growing interest from developers in larger-scale commercial and industrial developments, the city is interested in updating its 2004 comprehensive plan to take a closer look at future land use needs and growth management policies. This plan will allow the community to have broader discussions on a unified vision and adopt goals and policies for future growth and transportation needs for the city.
Project Objective
This plan will examine existing conditions and economic, demographic, and social trends in the city and surrounding area, as well as an in-depth look at transportation and related infrastructure needs. Emphasis will also be placed on an assessment of existing land use patterns, an analysis of supplementary planning strategies, revised goals and policies, and an implementation plan to achieve community goals and initiatives.
Be sure to check back for updates and information as we move forward with this project! Follow the City of Mapleton Facebook page for project highlights and community engagement opportunities.
Comment Form
Please use the comment form below to submit any comments or questions you may have.